Tasfil Publishing Releases New Humorous Book
Tasfil Publishing releases the new novel, "The Moskowitz Code" by Joel Bresler, where we realize a doctor's bad handwriting could be less life-threatening then his typing skills.
Voorhees, NJ, August 17, 2017 --(
PR.com
)-- In "The Moskowitz Code," comedic author, Joel Bresler, captures the essence of Jewish humor in the personalities of his characters. In the story, Myron Moskowitz - Mike, to the entire world except his mother Celia - goes to the doctor with a bad case of the current bug going around. When his doctor mistakenly types the wrong code into his electronic medical record, Mike finds life, or at least the one he's grown used to, suddenly turned tush-over-teakettle.
With that single dodgy digital diagnosis, a chain reaction is set in motion leading Mike to lose his job, accidentally get all trace of himself wiped off of every computer in the known universe, and seriously contemplate buying a Harley. And Mike isn't exactly what you'd call a motorcycle kind of Moskowitz. Somehow Mike must find a way to get back on the grid and get his old job back, all without his wife finding out about any of it. At least Celia's in his corner, something Mike hopes is a good thing.
The author's own concerns over electronic medical records was the inspiration behind the story. "Some things just don't belong on a computer," Bresler says. "All the rest would be better off not being on a computer." Admittedly, Bresler is something of a dinosaur when it comes to technology. In fact, he has been heard to remark that "those computer things" are just a fad, even though recently he was told he should know better by now.
However, medical records being accessible with a keystroke is definitely at the top of his icky list. Forget the whole private, intimate relationship with your personal physician thing (that has always been a one-way ticket, anyway). It's more about putting a window where there was once a door. "It's nearly impossible to hack into a manila folder in a locked cabinet," Bresler reminds. "Or even an unlocked file cabinet. And password-sniffing software might as well pack up and go home for all the good it can do against handwritten notes, especially those written by a doctor."
But type those warts and all into a computer, and you're simply inviting mayhem, or at least a very funny tale like "The Moskowitz Code."
About the Author
Joel Bresler likes to think of himself as just your average Jewish kid from Cleveland. An aging one, as he is quick to admit, but the description seems to suit him. Currently living in the dessert southwest, he is grateful he's been able to find and surround himself with others sharing his ethnicity while dodging snakes and cactus spines, and trying to escape the "dry" heat.
The Moskowitz Code
By Joel Bresler
Publication date: August 1, 2017
ISBN: 978-0-9862580-4-6
Trade paperback & e-book
Price: $12.99/$2.99
308 pages
Contact
Tasfil Publishing, LLC
Lisa Shiroff
856-938-7868
tasfil.com

Contact
Multimedia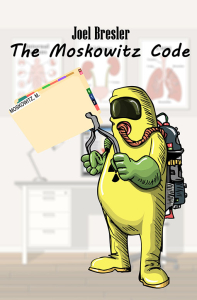 The Moskowitz Code is a funny satire taking on the medical industry, large corporations, Jewish mothers, and the benefits of living off the grid.