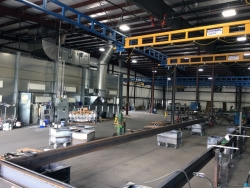 Madison, GA, August 21, 2017 --(
PR.com
)-- Bulldog Steel Fabrication (BSF), a premier supplier of steel fabricated parts and components in Georgia, and nominee of the 2017 Manufacturer of the year award by Georgia Piedmont Technical College (GPTC) has completed construction of their new 15,000 square foot building expansion.
The new 15,000 square foot expansion is located at the north end of Bulldog Steels existing 50,000 square foot facility. The expansion is being utilized as the cornerstone of their welding and painting operations.
"Our expanded facility includes multiple 4 ton over head cranes, all new Miller Welding machines and fully certificated welding staff. We're excited about our growth and the opportunity to increase efficiency and quality of our Base Frame operations for our core customers," said Loni Johnson, Operations Manager at Bulldog Steel Fabrication.
At the heart of the new expansion is their all new eco friendly Side Down Draft Paint Booth custom built by Global Finishing Solutions. The paint booth gives BSF the capability to apply wet coat paint applications ranging from smaller individual components to welded structures of 10'(H)x16'(w)x 60'(L) and weighing up to 30k pounds.
Bulldog Steel also expanded their Fabrication capabilities by adding three new machines into their production line, including:
•175 Ton Seyi Gap Frame Press with 15,000 pound uncoiler and ¼"x 30" Straightener
•90 ton Verson Punch with 24" x 10' T-Bed
•Amada Horizontal Band saw with a capacity of 20" x 20"
Bulldog Steel Fabrication is an industry leader in the South East for processing structural, flat rolled, and coiled steel into customer specific component parts.
The company's website www.bsfga.net provides more information.