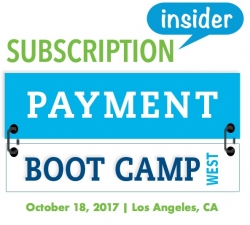 Boston, MA, August 22, 2017 --(
PR.com
)-- Businesses that rely on subscription, membership and recurring revenue will learn how to reduce subscriber loss, improve renewal rates and increase recurring revenue at a day-long event exclusively focused on mastering the art and science of payment processing for monthly and annual fees.
Online publisher Subscription Insider and consulting firm Paul Larsen Consulting (PLC) will co-host "Payment Boot Camp West" on October 18, 2017, in Culver City, California. Detailed event information can be found at:
www.subscriptioninsider.com/bootcamp
"Credit card transactions are the heart of all subscription businesses, and nothing puts a damper on renewals caused by declined payment cards," said Subscription Insider CEO and publisher Kathy Greenler Sexton. "Together with PLC, we have designed a deep dive for finance, payment, marketing, retention and product executives that will help them develop strategies to improve the lifetime value of customers."
Sexton added that because of the support of Payment Boot Camp sponsors Vindicia, RevGuard, Verifi, WorldPay, Vantiv and IProduction, qualified subscription, membership and recurring revenue companies will now be able to attend for free. "This is a tremendous opportunity for retention and payment professionals to learn how to respond to the latest payment and retention trends and network with leading subscription and payment experts," she said.
"Payment Boot Camp West" will provide insights from industry experts, engaging discussions, cases studies and strategies that executives can put into practice immediately. Topics will include:
· The State Of Getting Paid (By Your Subscribers)
· How Lifelock Maximizes Recurring Revenue
· How To Maximize Subscriber LTV Through Payment Processing
· Churn KPI and Analytics
· How To Manage Your Payments Data
· Unlocking The Value Of Transaction Data To Boost Your CompetitiveAdvantage
· Alternative Payments and Recurring Billing
· How To Manage Chargebacks And Fraud To Grow Ltv
· How To Build A Global Payments Strategy
· Check Your International Payments Health
· Roundtable Discussion Sessions
To learn more about ""Payment Boot Camp West" and request a free invitation, visit:
www.subscriptioninsider.com/bootcamp
About Paul Larsen Consulting (PLC)
PLC exists to maximize the lifetime value of subscriptions by helping crush credit card-caused churn. The company's mission is to serve the community of subscription merchants by optimizing their bottom-line credit card processing results through the application of the recurring industry's best practices, in the most effective ways. After 13 years as a merchant, the company has spent 13 more years delivering fine-tuned tools and weapons to more than 400 subscription merchants, including Ancestry, Angie's List, Audible, Consumer Reports, Disney and Dollar Shave Club. Visit www.PaulLarsenConsulting.com for more information.
About Subscription Insider
Subscription Insider, an online media business owned and operated by Authority Media Network, LLC, delivers intelligence on how to build, market and sell subscription-based products and services. Through exclusive news, research and tools (including case studies, trend reports, buyer guides, tutorials and best-practice information), Subscription Insider provides the industry's most authoritative how-to guidance on running subscription businesses more profitably. For more information, please visit www.subscriptioninsider.com or call 800-764-9133.