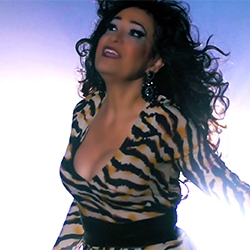 Sacramento, CA, September 29, 2017 --(
PR.com
)-- Award winning, Broadway actress and American Dance music recording artist, Raquela, has been storming the dance charts worldwide since 1999 with Dance hits like "Falling" (Chris The Greek), "Nothin' More To give" (House Godfather legend, Mickey Oliver) and "Summertime" (HOP Music). She went back home to Elk Grove, CA to give back to her community and teach voice privately, full time. Due to constant emails from DJ around the globe, she felt it was time to come back to the music business again. Her students are ecstatic, "...but that doesn't mean I'm going to stop teaching," Raquela warned.
In October, 2017, Raquela will be bringing a fresh cross-over pop sound with a new Dance track called, "These Tears." Raquela said, "This project has brought me so much satisfaction. I have a new-found writing collaboration with Pop recording artist, Xavier Toscano ("Apologies Wasted," "Never Wanna Leave," "Runaway") so this is going to be a seriously exciting release." Raquela's consistent powerhouse vocals recently helped her work out a new record label deal with RE Music.
"These Tears" was best described as "…trying not to reveal vulnerability during a heart-break." Meanwhile, you can hear ironic 'crying' undertones in Raquela's beautiful vocal performance. This EP Single is expected to be packed with 7 EDM remixes, giving a total of 14 incredible mixes! Included in the remix line-up are fellow Billboard charters, Klubjumpers (klubjumpersmusic.com), including Qubiq (facebook.com/qubiq) and San Francisco favorite, Jeff Morena (jeffmorena.com), plus more.
Award-winning filmmaker and editor, Jethro Patalinghug presents a damaged yet seductively haunting music video that will be introduced to the masses in October as well.
"Don't you worry, voice lessons will still be up and running during the release and I expect to see all my students on time for their lessons." (www.ElkGroveSings.com)
For Raquela interview scheduling or further information contact:
Raquela Entertainment -
management@raquela.com
Follow Raquela at:
Instagram - https://www.instagram.com/theraquela
Facebook - https://www.facebook.com/theraquela
Twitter - https://twitter.com/theraquela
YouTube - http://www.youtube.com/c/RaquelaArtist
Website - https://raquela.com
​
About RE Music:
RE Music is a Northern California based record label partnered with Raquela Entertainment. RE Music specializes in releasing rock solid Dance/Club tracks along with music videos and mastering. Products are distributed via Raquela Management. Publishing division administrate copyrights.