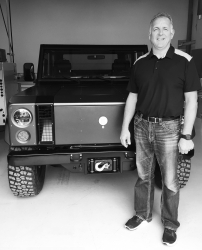 Hobart, NY, October 10, 2017 --(
PR.com
)-- Today, Bollinger Motors named Bryan Chambers Program Director for the Bollinger B1 all-electric sport utility truck. His responsibilities will include oversight of the manufacturing and engineering efforts in leading the truck's development team through the production process. In his role, Mr. Chambers will report directly to CEO Robert Bollinger.
Mr. Chambers previously worked in key management roles at Bendix, TRW, MSX and Saleen and has an extensive sales, engineering and prototype and manufacturing background working with OEM, Tier I/II, non-automotive, military, and specialty companies in bringing prototype and engineering vehicles from design to production. He currently resides in the metro Detroit area and will help bring Detroit know-how to the team to be successful.
About Bollinger Motors
Started in 2014, Bollinger Motors is a US-based company headquartered in New York State. Bollinger Motors is revolutionizing truck and SUV design by creating the B1 - the world's first all-electric, on-and-off-road sport utility truck (SUT). This medium-duty SUT is truly innovative -- engineered from the ground up with an all-electric powertrain, unique storage options, all-aluminum chassis, adjustable hydropneumatic suspension, and convertible cab panels. It's second to none off road, and the perfect work truck for ranchers, builders, do-it-yourselfers, or anyone looking for an electric vehicle with unparalleled traction, torque, and ground clearance. This vehicle is a showcase for American ingenuity and a model for clean energy enterprise and innovation with headquarters and manufacturing operations based in the United States.
Interested individuals can reserve a spot in line with no money down at http://bollingermotors.com and can follow our journey on social media at Facebook.com/bollingermotors, @bollingermotors, Instagram.com/bollingermotors, YouTube and Linkedin.com/company/bollingermotors.
Media Contact:
Jeff Holland
Chief Communications Officer
562.640.1758
jeff@bollingermotors.com