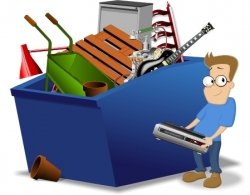 New York, NY, February 22, 2008 --(
PR.com
)-- Freecycle members have given the thumbs up for the virtual dumpster website www.vdumpsters.com.
The site is simplicity itself and you do not need to be a member of any group, complimenting and enhancing the ability to recycle and reuse other people's unwanted items or goods.
The principles that everything is free will help reduce landfill and reduce the temptation for individuals to just dump items in the local neighborhood.
To further compliment this, Vyouz the organisation behind the idea will launch www.trashcycle.com.
TrashCycle is a fantastically simple concept which allows anyone to give away stuff they wouldn't normally upload to vDumpsters or Freecycle - everything from egg boxes, yogurt pots, milk bottle tops, bottles and aluminum cans.
All these items can be reused by schools in their art classes, community groups or collectors who recycle for charity.
TrashCycle not only helps the environment you live in by reducing your trash levels but it also helps the young and old in your local community. And of course, it's totally free. Let's get the community spirit back into giving.
www.vyouz.com
###