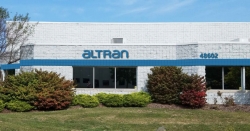 Wixom, MI, November 09, 2017 --(
PR.com
)-- Altran, a global leader in engineering and R&D services to a number of advanced industries, has opened its newest passive safety center and its first in the U.S. The center is located in Wixom, MI, outside of Detroit, and is focused on delivering passive safety solutions for the automotive industry. The new Wixom testing center, part of Altran's World Class Centers for Passive Safety, is located at 48602 Downing Street.
The new passive safety center will provide high quality engineering services for all passive safety related challenges facing the automotive industry. The center's testing department will focus on pedestrian protection, airbag testing and interior testing. In addition to testing and engineering services, the center will provide local distribution and support of turnkey test equipment for customized applications from Concept Tech and Microsys.
Altran's passive safety testing centers
Altran operates automotive passive safety testing centers in France, Austria, Germany and Canada, with over 6,000 automotive specialists operating in 15 countries. Altran's passive safety centers serve the automotive industry's needs for safer and lighter cars, adherence to more stringent standards, and the future passive safety challenges of autonomous driving, wherein occupants will be sitting in different positions in cars.
"We are excited to be opening our first World Class Center for Passive Safety in North America," said Rob Vatter, CEO for North America. "We are among the select international brands leading the way in advanced automotive innovation and testing. Here in the U.S. we are bringing together engineering, testing, simulation and test equipment all under one roof. We will leverage this unique combination to deliver cutting edge and sophisticated passive safety solutions."
Altran offers custom solutions that combine disruptive technologies, complex software development expertise, and innovative processes spanning the entire product lifecycle continuum. Altran accelerates the pace of innovation for its clients, providing local expertise and global project support that spans 20 countries. Its World Class Centers offer expertise that is shared and delivered globally.
For more information on the new Altran World Class Passive Safety Center in Wixom, MI, contact us at info.na@altran.com.
About Altran
As a global leader in Engineering and R&D services (ER&D), Altran offers its clients a new way to innovate by developing the products and services of tomorrow. Altran works alongside its clients on every link in the value chain of their project, from conception to industrialization. For over thirty years, the Group has provided its expertise to key players in the Aerospace, Automotive, Defense, Energy, Finance, Life Sciences, Railway, and Telecoms sectors, among others. In 2016, the Altran group generated revenues of €2.120bn. With more than 30,000 employees, Altran is present in more than 20 countries.
For More Information Contact:
Hope Mascott, Director, Marketing Communications
Altran
Tel.: +1-781-993-5500 x 120
Hope.mascott@altran.com
www.altran.com
www.passivesafetycenter.com
Follow us on Twitter: @Altran #Altran2020