Companies Can Get Help from U.S. Bancorp & Capital Trust to Establish Their Own Offshore Banks
When companies have their own offshore banks, they will be in a better position to attract funds from foreigners. They can get help from U.S. Bancorp & Capital Trust for establishing an offshore bank for them.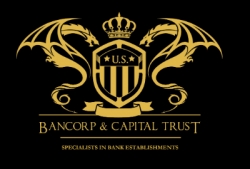 King of Prussia, PA, November 10, 2017 --(
PR.com
)-- Most of us know that offshore banks are located outside the nation in which depositors resides. With the globalization these days, companies having their own offshore banks can attract funds from foreigners as investment.
For establishing their offshore and investment banks, companies can get the best guidance from U.S. Bancorp & Capital Trust. This company is specialized in the establishment of investment banks and real estate trust. Investment banks established by U.S. Bancorp & Capital Trust are fully licensed to gather money from the general public. They also have the right to invest the funds collected in different businesses for their own account and/or for third parties.
So, companies looking to attract investments from the general public to ensure their growth can get the best help from U.S. Bancorp & Capital Trust.
About U.S. Bancorp & Capital Trust:
U.S. Bancorp & Capital Trust is not a brokerage firm. We are your exclusive source for Investment Bank & Capital Trust establishments across the world. Our all-inclusive price structure for the establishment of your very own Investment Bank & Trust is only $35,000, which allows you to "kick-start" your new investment banking business within 7 to 10 working days.
Taking on an assignment for the establishment of a new Investment Bank & Trust means we live, breath, eat and dream YOUR project like it would be ours. We get involved from the beginning; walk with our clients while adding substantial and tangible economic value, until your Investment Bank & Capital Trust is established. We stay in the background as your "silent partners" and trusted advisers for any future help and assistance you might need. We become part of your team, helping you with our knowledge and expertise whenever you need us, without that you have to give up any equity in your new banking business.
For more information, please visit www.bancorpventures.com
Contact
U.S. Bancorp & Capital Trust
Peter Graf
+1-610-994-3266
www.bancorpventures.com

Contact