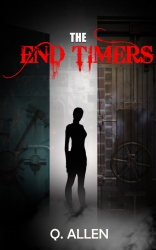 Baton Rouge, LA, November 23, 2017 --(
PR.com
)-- Q Allen Publishing is announcing the release of its first production, "The End Timers," by Q Allen.
The story is a chilling and at times action packed tale of Tamara Umbra. She's a newly wealthy young woman who had just bought a membership into The End Timers luxury fallout shelter. During a weekend visit to the shelter an incident occurs trapping her and her fellow members inside. Having forgotten to take her medication, she begins to hear a bizarre voice in her head. Tammy quickly spirals downward to a place of fear and distrust. The voice tells her that there is a secret conspiracy at work against her and that everyone around her is a part of it. Where is this voice coming from? Is it real or only in her head? Is there really a conspiracy against her? Or is she just going crazy?
This story is written for readers of all ages. If you like science fiction, action or the psychological thriller, you will love this story. The book is out now on Amazon. Follow this link to purchase "
The End Timers
."