Arteric Pushes Boundaries with Its New Corporate Website, Arteric.com
Healthcare Digital Marketing Agency Shares Strategic and Tactical Insights in a Future-Ready Experience
Summit, NJ, November 21, 2017 --(
PR.com
)-- The future again arrived early at Arteric (http://arteric.com), a healthcare digital marketing agency that fuses exceptional software-development skill with healthcare marketing expertise. The team that's leading the charge to accelerate healthcare marketing with artificial intelligence recently launched a completely revamped version of their corporate website, arteric.com.
Visitors to the site tap into Arteric's wealth of practical insight for healthcare digital marketers, gained from solving hundreds of business problems during several years of dramatic growth. Whether visitors access the website on a smartphone screen or an expansive desktop monitor, they are treated to an informative and intuitive experience.
Elegance in a Future-Ready Design
Ross O'Shea, vice president and creative director, explains, "We created a completely responsive design that's ready-made for leading-edge immersive and 3-dimensional technologies. Intuitive navigation options give visitors quick access to any page in the site. In every section, insightful content is organized into scannable segments. On every page, imagery and copy work seamlessly to project key messages at any screen size."
President and Co-founder Hans Kaspersetz adds, "I challenged the team on several levels to develop a website that evokes the leading-edge solutions that Arteric creates; and as usual, they responded brilliantly. The new Arteric.com achieves this by providing a uniquely creative and engaging experience. More importantly, the site provides actionable insights for healthcare marketers. Throughout the website, visitors find clear explanations of the nuances of strategies and tactics that accelerate the development and launch of digital marketing solutions. I'm so proud of the work the team accomplished that I would like everyone to read
my thank-you note to them
."
Digital Guidance for Disruptive Times
Digital technology is always evolving, causing healthcare marketers to navigate an expanding maze of strategic and tactical technology options. Mr. Kaspersetz frames the arteric.com update in this context: "Everyone at Arteric continually expands their skillsets and capabilities, so we can counsel our clients through a constantly changing digital landscape. We know that mobile-first indexing, E.A.T., structured data, and voice search are going to be crucial over the next two years. For this reason, we developed arteric.com as a test bed for these technologies, so that we can accelerate our customers' adoption of them. I challenged the team to create the website using a powerful development technology for the first time, and their response was outstanding."
Over the course of two decades and multiple technology revolutions, Arteric has combined "what if" thinking with experience-driven insight to transform technology into business solutions for pharmaceutical brands and healthcare organizations. Contact Hans Kaspersetz at 201.546.9910 to advance your brand with leading-edge digital marketing solutions that work everywhere, every time.
About Arteric
Arteric is a healthcare digital marketing agency built on a foundation of technology expertise — digital strategy, software engineering, search engine optimization, and search engine marketing. Arteric develops the strategy and software — websites, mobile apps, and Web applications — that drive pharmaceutical and biotechnology digital marketing campaigns and connect the patients, caregivers, and healthcare professionals with information about life-changing therapies, technologies, and devices.
Contact
Arteric
Ross O'Shea
201.546.9910
http://arteric.com

Contact
Multimedia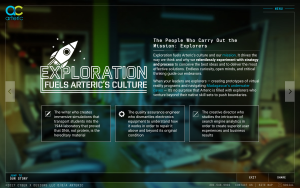 The new Arteric.com provides insightful information for healthcare marketers about websites, mobiles apps, and Web applications.