Animal Communicator Karen Anderson Releases New Book, "The Amazing Afterlife of Animals"
What happens to our pets after they die? Is there another realm where they coexist with our departed human loved ones? Are they happy and free from pain?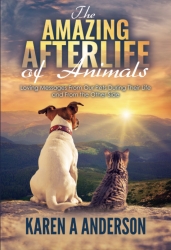 Spokane, WA, November 22, 2017 --(
PR.com
)-- Award-winning animal communicator and psychic medium, Karen Anderson, reveals what she describes as tantalizing evidence that our pets communicate with us throughout their lives as well as after their physical death.
Author Karen Anderson says:
"Will this evidence prove that our pets continue to send us messages and signs from the Other Side?
You be the judge.
Discover how pets feel about death, euthanasia, cremation, reincarnation and so much more. Was it their time to die? Do the pets we had to euthanize forgive us?
Included are actual sessions with departed animals sharing their loving thoughts and insightful messages. If you are grieving the loss of your beloved pet, you will also learn how to work through your grief and move into healing.
The purity of the animals' messages may surprise you and they may even present new perspectives about life after death. Discover how deeply your pets love you and how the bonds of love never die as you journey into the amazing afterlife of animals.
Why Do We Want to Communicate With Departed Pets?
Even in death, you are the most important person in the world to your pets. I can't think of a single reason that I wouldn't want to communicate with them after they die. The reasons we want to connect are as unique as we are, but there are a few main goals that most of us have in common.
Primarily, we want to know that our pets are safe, pain-free or with our loved ones on the Other Side. We want them to know how much we love them and miss them. We want to feel good about the life we provided for them, especially if things did not end as peacefully as we would have hoped.
Our pets provided us with so much love, companionship and treasured moments that we want to express our gratitude and deepen our connection."
Review from International Bestselling Author, Annie Kagan:
"My session with Karen was so profound that my connection with sweet cat Johnny has been transformed. That amazing marvelousness jumps from the pages of her inspiring book, 'The Amazing Afterlife of Animals' and will take your relationship with your pets, on this side and the next, to new horizons!"
~Annie Kagan, author of the international bestselling book, "The Afterlife of Billy Fingers: How My Bad-Boy Brother Proved to Me There's Life After Death"
The book is now available on
Amazon
.
www.animalcommunicating.com
Contact
Karen Anderson - Animal Communicator
Karen Anderson
510.854.6003
www.animalcommunicating.com
Facebook: Karen Anderson Animal Communicator, Author
Twitter: Talkstopets

Contact