Northeast Suites Joins Chicago Based Co to Form America Suites
The original "airbnb for companies" based out of Boston has joined forces with Pinnacle Furnished Suites to form the first and only "Made in the USA" furnished housing brand with roots starting in Nashville.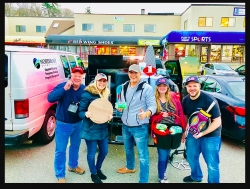 Nashville, TN, December 13, 2017 --(
PR.com
)-- Northeast Suites & Pinnacle Suites join forces to start America Suites.
Northeast Suites, The Official Corporate & Furnished Housing Provider of Boston, and Pinnacle Furnished Suites - The Premier corporate housing provider out of Chicago have announced
the formation of America Suites, a Joint Venture between the two award-winning companies with its flagship and first office in Nashville, TN.
America Suites is a first-of-its-kind Temporary Furnished Housing company who caters to traveling professionals and leisure travelers with a twist - every item placed in an America Suite is made right here, in the USA. From Pizza Cutters made in Iowa, to Colanders made in Wisconsin, you'll find that everything in your suite helps support the US economy by providing jobs and benefits to millions of families nationwide. Even the shower curtain rings are made in Huntington Beach, California.
"Over the past decade I've seen a shift in this industry towards our product being commoditized more and more. Every year there is upward pressure to be competitive, and a nearly flat trend in ADR. With America Suites, we hope to change that," said Patrick Flynn, Founder & CEO of Northeast Suites. "By spending slightly more on high-quality products made in the USA, our clients will find a genuine appreciation for the types of household goods and electronics they are accustomed to in their own home. Just because you're traveling doesn't mean you don't want to enjoy a nice experience with high end products in a furnished suite."
Matt Singley, Co-Founder of Pinnacle added, "America Suites combines two forward-thinking corporate housing companies together with a tech-minded approach to sales and service. Branding as American-made creates a unique identity in fully-furnished housing that many strive for but rarely achieve. I couldn't be more excited to show the world what can be done and improved in an industry begging for change."
In order to accomplish sourcing items made in the USA, the teams combined to create a supply-chain spanning dozens of companies and individuals, some working from home - and some, like MyPillow, that have hundreds of millions of dollars in sales - but are still all made in the USA.
Employees at the two companies echoed the excitement and sentiment of the Founders:
Lisa Alarcon, Northeast's Inside Sales Manager had this to say, "It's thrilling to be part of this project! Not only is this a groundbreaking concept for the industry, it's incredibly gratifying knowing that every single product we place in these apartments was made in America by real life Americans. Our purchases will help support local communities and economies across the country and that's really cool to be a part of."
Ultimately, America Suites envisions being a high-end niche in the expanding Sharing Economy worldwide.
Flynn finished with "There's a major opportunity to become a high-end purveyor of furnished suites - and past sales of companies like LuxuryRetreats to Airbnb for $300MM just this year is proof that there is vast investment potential in this industry."
Read more about America Suites at www.MericaSuites.com
About Northeast Suites, Inc.
Northeast Suites provides luxury furnished housing nationwide with a focus in the Northeast, offering corporate, temporary housing in apartments, condominiums, and houses for clients ranging from Fortune 500 companies to individuals in need of a hotel alternative for their short-term stay. Northeast Suites currently has an occupancy rate of ninety nine percent since its launch in March 2012, and works with hundreds of different properties and national property management companies throughout the country. They have formed strategic alliances with HR professionals at corporations in the biotech and software industries, medical institutions, media conglomerates, professional sports teams and traveling nurse companies. For more information, please visit
www.northeastsuites.com
.
About Pinnacle Furnished Suites
Pinnacle Furnished Suites is a provider of luxury furnished apartments focusing in the downtown neighborhoods of Chicago, IL. With a tech-minded and efficient approach to operations and sales, more time and energy can be spent giving our clients the customer service they deserve. With corporate housing units available in over 20 of Chicago's newest apartment buildings, we can service the specific needs of each and every client genre ranging from professional athletes, insurance placement, healthcare, technology consultants, theater groups, TV & movie, and long-term vacationers. For more information visit
https://www.pfsuites.com/
or email inquiries@pfsuites.com.
McKenzie Lundon | Marketing & Communcations
kenz@northeastsuites.com
Contact
Northeast Suites
Mckenzie Lundon
888-323-3224
northeastsuites.com

Contact