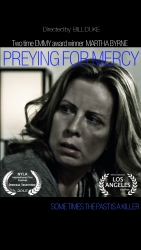 New York, NY, December 20, 2017 --(
PR.com
)-- Preying For Mercy Now On Google Play:
Produced By: John Rigores & David Wenzel
https://play.google.com/store/movies/details/Preying_for_Mercy?id=zTn2YfA_HrM
With some heavy hitting acting from three time Emmy Winner Martha Byrne (As the World Turns, Gotham, Crisis) and veteran Jayson Gladstone, Preying for Mercy is hard hitting action/thriller film from director Bill Duke. Preying for Mercy is an on your seat thriller about a cop who has a hit put on him for a bust that went bad.
"The acting in this short film is some of the best I have seen for an independent feature and the story is very intriguing. It left me guessing as it built the suspense to the final act. The flashbacks where well placed and did not mess with the flow of the film. The effects where not sub par as most films with a small budget would be. A lot of time and effort was put into this film by not just the writers and directors but also by the great cast that was put together to tell this story."
- Producer David Wenzel
Summary:
Frank Gates is an LAPD cop with a rocky past and a dark secret. He restarted his life thinking he was finally safe, but the past is never far behind. Now with danger coming fast he is forced to protect his family at any cost.