Ronald R. Bishop Honored as a Top Executive for 2018 by Strathmore's Who's Who Worldwide Publication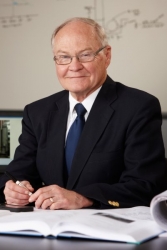 Grand Island, NE, January 23, 2018 --(
PR.com
)-- Ronald R. Bishop of Grand Island, Nebraska has been honored as a Top Executive for 2018 by Strathmore's Who's Who Worldwide for his outstanding contributions and achievements for over 55 years in the field of PVC piping.
About Ronald R. Bishop
Mr. Bishop is the VP of Engineering Technology at Diamond Plastics Corp., which is a manufacturer providing corrosion free PVC pipe. They provide a nationwide network of seven manufacturing facilities providing pipe solutions for agricultural, industrial and municipal applications. He supervises national standards of pipe fitting and pipe procedures. Mr. Bishop is also responsible for technical support of sales, marketing and manufacturing, development of National Standards (ASTM, AWWA, ASCE, ASABE, etc.) and new product development.
Ron previously served as a Vice President at Lamson and Sessions in Beachwood, Ohio from October 1992 thru October 1996. He was the Business Unit Manager for the Engineered Sewer Products Unit. He joined Diamond Plastics Corp. in 1996 and served as the Vice President of Engineering and Technical Services until 2011. He was responsible for external product codes and standards, technical support of Technical Sales and Marketing, technical support of Manufacturing, and coordinated work with the National Standards organizations (ASTM F17, D20 and E5), AWWA (PVC Pipe Committee), PPI/HSB Committee) ASCE (MOP- Sustainable Pipeline Design and Pipeline Assessment).
Born on September 6, 1947 in Logan, Utah, Ron obtained a M.S. in Mechanical Engineering from Utah State University in 1973. He is fluent in English and Portuguese. He is affiliated with the American Society of Mechanical Engineers, the American Water Works Association, the ASTM International, the Wastewater Environment Federation and the American Society of Civil Engineers. He was recently recognized on the Reuters Billboard in Times Square in New York City as the Biography of the Year for 2018. In his spare time Ron enjoys fishing and gardening.
For further information, please contact
www.dpcpipe.com
.
About Strathmore's Who's Who Worldwide
Strathmore's Who's Who Worldwide highlights the professional lives of individuals from every significant field or industry including business, medicine, law, education, art, government and entertainment. Strathmore's Who's Who Worldwide is both an online and hard cover publication where we provide our members' current and pertinent business information. It is also a biographical information source for thousands of researchers, journalists, librarians and executive search firms throughout the world. Our goal is to ensure that our members receive all of the networking, exposure and recognition capabilities to potentially increase their business.
Contact
Strathmore Worldwide
Susan Perrault
516-677-9696
www.strathmoreworldwide.com
Syndi Reibman

Contact