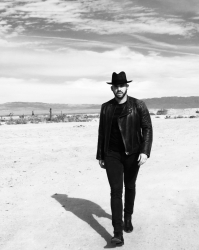 Los Angeles, CA, January 19, 2018 --(
PR.com
)-- ​LA-based​ ​artist​ ​Dario​ ​Black​ ​is​ ​a​ ​creative,​ ​diverse​ ​and​ ​charismatic​ ​individual with​ ​a​ ​passion​ ​for​ ​Latin​ ​Pop,​ ​R&B​ ​and​ ​electronica.​ ​With​ ​his​ ​Colombian/Venezuelan​ ​heritage,​ ​Dario​ ​set​ ​out to​ ​ignite​ ​his​ ​sound​ ​with​ ​the​ ​incandescent​ ​spark​ ​of​ ​Latin​ ​Pop​ ​grooves,​ ​which​ ​add​ ​a​ ​really​ ​special​ ​vibe​ ​to​ ​his production.
This​ ​project​ ​hits​ ​very​ ​close​ ​to​ ​home,​ ​because​ ​it​ ​focuses​ ​on​ ​a​ ​previous​ ​relationship​ ​of​ ​Dario's.​ ​However,​ ​the album​ ​is​ ​not​ ​just​ ​about​ ​reminiscing​ ​on​ ​lost​ ​love​ ​and​ ​look​ing ​back​ ​on​ ​previous​ ​romantic​ ​interests.​ ​On​ ​the​ ​other hand,​ ​the​ ​EP​ ​also​ ​features​ ​driven​ ​and​ ​passionate​ ​reflections​ ​on​ ​personal​ ​growth,​ ​the​ ​relationship​ ​with yourself,​ ​which​ ​matters​ ​so​ ​much​ ​to​ ​your​ ​growth​ ​as​ ​an​ ​individual.​ ​The​ ​EP​ ​also​ ​features​ ​Dario's​ ​excellent single,​ ​"All​ ​I​ ​Wanna​ ​Do,"​ ​which​ ​offers​ ​a​ ​perfect​ ​example​ ​of​ ​the​ ​sound​ ​of​ ​the​ ​EP,​ ​and​ ​was​ ​previously​ ​released. With​ ​its​ ​edgy​ ​beats​ ​and​ ​far-reaching​ ​melodies,​ ​the​ ​EP​ ​is​ ​both​ ​thought-provoking​ ​and​ ​forward-thinking, allowing​ ​the​ ​audience​ ​to​ ​have​ ​fun,​ ​while​ ​pondering​ ​deeper​ ​themes.​ ​It​ ​is​ ​not​ ​easy​ ​for​ ​artists​ ​to​ ​fill​ ​their​ ​work with​ ​insightful​ ​ideas​ ​and​ ​honest​ ​features,​ ​but​ ​Dario​ ​definitely​ ​managed​ ​to​ ​break​ ​the​ ​divide​ ​between​ ​true art​ ​and​ ​entertainment​ ​in​ ​a​ ​very​ ​spectacular​ ​and​ ​inspirational​ ​way.
"Having​ ​an​ ​independent​ ​spirit,​ ​nurturing​ ​it,​ ​navigating​ ​technology​ ​creatively​ ​and​ ​building​ ​my​ ​own​ ​brand and​ ​company​ ​has​ ​been​ ​extremely​ ​challenging​ ​and​ ​satisfying,"​ ​Dario​ ​says.​ ​"The​ ​album​ ​represents​ ​my​ ​life journey​ ​to​ ​this​ ​point​ ​and​ ​with​ ​that​ ​I​ ​hope​ ​people​ ​feel​ ​inspired​ ​not​ ​only​ ​get​ ​up​ ​and​ ​move​ ​but​ ​making choices​ ​that​ ​impact​ ​them​ ​in​ ​the​ ​most​ ​positive​ ​of​ ​ways."
Dario​ ​has​ ​been​ ​featured​ ​during​ ​various​ ​live​ ​events​ ​such​ ​as​ ​Los​ ​Angeles​ ​Pride,​ ​West​ ​Hollywood​ ​Halloween Carnival,​ ​and​ ​won​ ​first​ ​place​ ​in​ ​the​ ​cable​ ​TV​ ​show​ ​"Best​ ​New​ ​Talent,"​ ​which​ ​was​ ​the​ ​impetus​ ​for​ ​moving​ ​to Los​ ​Angeles.​ ​Dario's​ ​music​ ​was​ ​recently​ ​introduced​ ​​ ​on​ ​NPR's​ ​Tuesday​ ​Reviewsday​ ​​ ​via​ ​83.3​ ​KPCC​ ​and​ ​has received​ ​246,000​ ​minute​ ​streams​ ​on​ ​Spotify​ ​and​ ​gained​ ​a​ ​global​ ​following​ ​of​ ​22,987​ ​in​ ​2017.
Temporary Love​ ​​is available now.
darioblack.com
instagram.com/darioblackmusic
facebook.com/darioblackmusic
twitter.com/darioblackmusic