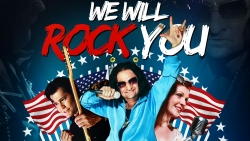 Los Angeles, CA, February 06, 2018 --(
PR.com
)-- Hollywood icons, Corey Feldman and Corey Haim are being honored with a tandem-release of two films that capture some of their finest work as adult actors.
"We Will Rock You," a comedy that takes place in war-torn Afghanistan, stars Corey Feldman with a supporting cast the 80's would be proud of, reuniting him with The Iron Sheik for the first time since Cyndi Lauper's, "Good Enough" music video. The film also features hysterical performances by Frank Stallone, Daniel Baldwin and National Lampoon's Mark Metcalf.
"'Decisions," a theatrically released urban-crime-drama, stars Corey Haim, tragically in his final performance.
Both films are now available on Amazon Prime, streaming from Skylove Limited.
About We Will Rock You:
A rock n' roll musician joins forces with an offensive comedian and a musical-theater actress trying to introduce American culture to Afghanis. As all things go in Afghanistan, the performers get into more trouble than they ever bargained for.
Starring: Corey Feldman, Alex Lvovsky, Noel Britton, Mark Metcalf, Larry Thomas, Daniel Baldwin, Frank Stallone, The Iron Sheik.
About Decisions:
A corrupt detective, an unforgiving hitman, and a group of friends looking for a golden ticket out of the hood are set on a collision course when a series of bad decisions pits them all against each other to get to a briefcase full of money from the bank. Tragic truth is, all of this has happened before and will happen again.
Starring: Corey Haim, Anthony Vitale, Matt Medrano
About Skylove Limited:
Skylove Limited is a privately-owned film-production and distribution company based in Los Angeles, CA.
More information on: skyloveltd.com