Former Babcock Jenkins Leader Launched New Portland Agency Two Years Ago and Its Thriving
Marketing agency, Haatzama Marketing is thriving and recently opened a brick and mortar location in the heart of downtown Portland.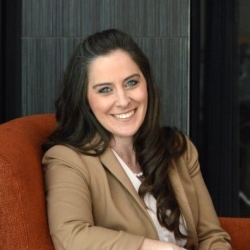 Portland, OR, February 14, 2018 --(
PR.com
)-- Former practice lead Angela Earl left the agency during its final wind down in 2016. After years of building agency teams, Earl envisioned a new model, operating as a unique collective rather than a typical agency vendor and in the Spring of 2016 her vision came to life under the brand Haatzama Marketing.
The team brings together the deep expertise of experienced agency talent and the efficiency of a smaller, more nimble consultancy.
After 2 years in business, Agency Spotter reports that the Portland firm is working with some very happy west coast clients including Skyward, RFPIO and Reflektive.
"It has been the best agency experience I've had," said Erin Olsen of Skyward.io. "We've managed to bring together the perfect blend of amazing practioners and fantastic clients who enjoy each working together so much that most days it doesn't even feel like work." stated Christina Hubbard, a project manager for Haatzama.
The agency continued its unique operating model when it opened a brick and mortar location in the heart of the cultural district of downtown Portland. The space, mostly used for meetings, is located street level like a boutique shop. "Like the work we do, we like our space to be efficient," states Earl.
https://www.haatzamamarketing.com
Contact
Haatzama Marketing
Angela Earl
818-378-9422
www.haatzamamarketing.com
angela@haatzamamarketing.com

Contact