The Select Group Wins Inavero's 2018 Best of Staffing® Client Diamond Award
Diamond Award winners have won the Best of Staffing Award for at least 5 years in a row, consistently earning industry-leading satisfaction scores from their clients.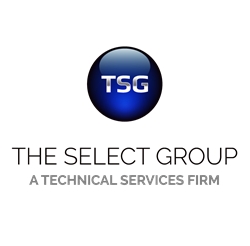 Raleigh, NC, February 16, 2018 --(
PR.com
)-- The Select Group (TSG), a leading North American technical services firm, announced today that they have earned
Inavero's Best of Staffing® Client Diamond Award
after winning the Best of Staffing Client Award at least five years in a row for providing superior service to their clients, and their third Best of Staffing Talent Award.
Presented in partnership with CareerBuilder, Inavero's Best of Staffing Client Diamond winners have proven to be industry leaders in service quality based entirely on ratings provided by their clients and consultants.
"I started The Select Group with a vision of creating a different kind of staffing firm that truly focused on the needs of its clients and workforce," TSG's CEO & Founder, Sheldon Wolitski said. "Earning Inavero's Best of Staffing® Client Diamond Award and our third Best of Staffing Talent Award speaks to our constant focus on the customer. I'm humbled by this recognition directly from our clients and consultants, and motivated to continue growing our world-class experience."
On average, clients of winning agencies are 2.3 times more likely to be completely satisfied with the services provided compared to those working with non-winning agencies.
TSG received satisfaction scores of 9 or 10 out of 10 from 78% of their clients and 73% of their talent, significantly higher than the staffing industry average of 32% and 45%, respectively.
"Our service portfolio has been built through the relationships we hold with our clients and reinforced by the quality of our skilled consultants," TSG's Chief Experience Officer, Jeff Zirker, said. "The Select Group appreciates all of our survey respondents for taking time to respond; giving us the opportunity to serve them and to hear their feedback through Inavero."
With fewer than 2% of all staffing agencies in the U.S. and Canada earning the Best of Staffing Award, just 33% of the 2018 Best of Staffing winners earned the Diamond Award distinction. The winners of this award truly stand out for exceeding client expectations.
"With a tight labor market and growing economy, finding the right recruiting partners is critical to success," said Inavero's CEO Eric Gregg. "Best of Staffing Diamond award winners provide consistently remarkable service to their clients and job candidates, and I couldn't be more proud to feature them on BestofStaffing.com."
About The Select Group
Founded in 1999 by CEO Sheldon Wolitski, The Select Group is headquartered in Raleigh, NC, with branches throughout North America, including Atlanta, GA; Boston, MA; Charlotte, NC; Columbus, OH; Dallas, TX; District of Columbia (DC); Greensboro, NC; Huntsville, AL; San Diego, CA; San Jose, CA; and Toronto, Ontario.
With a company purpose of impacting lives, one positive experience at a time, TSG offers managed services and staff augmentation to businesses of all sizes, as well as a dedicated government services division for meeting federal, state, and local government needs. TSG's technically-trained staff of recruiters and account managers are focused on building relationships to add value to the hiring and talent management processes.
The award-winning firm has been recognized as an emerging leader within the industry by landing on Staffing Industry Analyst's (SIA) Fastest-Growing US Staffing Firms list six years and counting, as well as making SIA's 2016 and 2017 Largest Staffing Firms list and earning consecutive awards for Best of Staffing. The Select Group is an 11-time honoree on the Inc. 5000 list of Americas' fastest-growing private businesses.
To learn more about The Select Group, visit www.selectgroup.com, or see our culture in action on social media.
About Inavero
The Inavero team administers more staffing agency client and talent satisfaction surveys than any other firm in the world, reporting on more than 1.2 million satisfaction surveys from staffing agency clients and job seekers each year. Committed to delivering ongoing value to the industry, Inavero is proud to serve as the American Staffing Association's exclusive service quality partner.
About Best of Staffing
Inavero's Best of Staffing® Award is the only award in the U.S. and Canada that recognizes staffing agencies that have proven superior service quality based entirely on ratings provided by their clients and job candidates. Award winners are showcased by city and area of expertise on BestofStaffing.com – an online resource for hiring professionals and job seekers to find the best staffing agencies to call when they are in need.
Contact
The Select Group
Stephanie Cashwell
434-825-2452
www.selectgroup.com

Contact