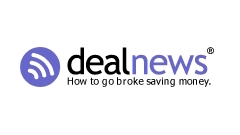 Huntsville, AL, March 02, 2006 --(
PR.com
)-- dealnews.com features unbeatable deals on DVDs, CDs, books and magazines through a system of deal and discount tips. Literally hundreds of consumer discounts, coupons, rebates and deals are submitted to dealnews.com each day. The dealnews.com editorial staff then determines the legitimacy of these deals as well as its value to consumers. If it is determined to be the best deal available, it becomes "dealnews" and is posted on the site in an appropriate product category.
dealnews.com
's DVDs/Music/Books/Magazines category features unbeatable inside deals offered by well-established online and brick-and-mortar companies. These companies compete for the business of every shopper and use dealnews.com as a valued resource for getting deals out to the public.
Some deals that can currently be found on dealnews.com:
-Buy 2 DVDs for $15.00US
-DVDs from $4.99US
-FOX TV DVDs for up to 50% off
-Three one-year magazine subscriptions for $20.00US
-Spend $25.00US on books and receive another $25.00US for free
-Two-year subscription to Men's Fitness Magazine for $4.95US
-Four free rentals for new Blockbuster Video members
-Monty Python DVDs for $9.98US shipped
-Esquire magazine one-year subscription for $2.97US shipped
All deals listed on dealnews.com are offered by outside entities and are submitted to dealnews.com for the purpose of informing the public about current promotions. As an advocate of the consumer, dealnews.com publishes the most up-to-date deals available to educate the purchaser before making a decision. Unlike price-comparison services, dealnews.com does not require that a store pay a fee to be listed: All great deals are "dealnews."
About dealnews.com, Inc.
Relying on thousands of monthly reader submissions and expert editorial research, dealnews.com reports on the best deals with dealcoupon.com providing a huge list of web coupon codes usable at hundreds of online stores and dealmac.com providing hardware and software bargains just for Apple Macintosh users. In addition, dealnews.com's dealram.com, dealink.com, and dealcam.com sites are product-focused comparison search engines. Launched in 1997, dealnews.com's services are nationally recognized and have received awards and recommendations from The New York Times, PC World, Computer Shopper, The Washington Post, ZDNet, and many others. dealnews.com is a privately held corporation headquartered in Huntsville, Alabama.
###