Robert Washington Death Notice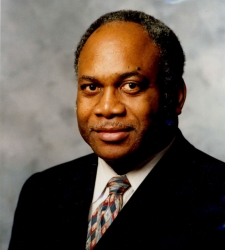 Brooklyn, NY, March 21, 2018 --(
PR.com
)-- Robert Washington, 74, died on March 11, 2018, from complications arising from a sudden illness. He is survived by his wife, Mary Webb-Washington, his daughter Sarah Irene Washington, son James Lateef Washington, and daughter-in-law Maryan Ali Washington.
Funeral arrangements will be managed by Miles Funeral Home, Inc. of Brooklyn, NY.
Services will be held at the Concord Baptist Church of Christ in Brooklyn, NY. A wake will be held 4pm-7pm on Sunday, March 18th. Deacon Remembrance program begins at 6pm.
Homegoing Services, led by Reverend Doctor Gary V. Simpson, will be held on Monday, March 19th, commencing with a one hour viewing from 9:00am - 10:00am.
Funeral Services will be from 10am -11am.
Followed by a repasse at Concord's Memorial Hall from 12:30pm - 3pm.
Robert will be committed to the Earth at the Cypress Hill Cemetery in Brooklyn.
The family has established the Robert Washington Memorial Scholarship as an education scholarship for students pursuing advanced education and careers in science and law. Donations can be made at
www.robertwashingtonmemorial.com
.
Robert (Bob) will be remembered as a dedicated Christian, a devoted husband and father, an excellent lawyer, and a leading figure in the community.
Church address:
Concord Baptist Church of Christ
833 Gardner C. Taylor Boulevard
Brooklyn, NY 11216
About Robert Washington:
Robert Washington, Esq.
Robert Washington graduated with honors from the University of Arkansas at Pine Bluff in 1964 and received a Bachelor of Science Degree in Chemistry (cum laude). He later obtained a Master of Science Degree in Chemistry from Long Island University in 1975 and a Juris Doctor Degree in Law from Brooklyn Law School in 1985.
He was admitted to the bar of the State of New York, and he was also admitted to practice before the United States Supreme Court, the United States District Court, Eastern District of New York, and the United States District Court, Southern District of New York. He was a member of New York State Bar Association, Brooklyn Bar Association, and American Immigration Lawyers Association. He has been appointed to represent Alleged Incapacitated Persons in Supreme Court guardianship matters. He has also been appointed as Referee in Supreme Court foreclosure matters. As a private Attorney at Law he has handled matters dealing with business incorporation, religious and not-for-profit organizations, by-laws, real estate, immigration, and wills and estates.
His other work experience includes employment as a mathematics teacher by Arkadelphia Public Schools in Arkadelphia, Arkansas; as a research chemist by the National Institute of Health in Bethesda, Maryland; as a laboratory staff analyst, product release supervisor, and GMP specialist by Pfizer, Inc. in Brooklyn, New York.
As a Research Chemist at the National Cancer Institute of the National Institutes of Health, he analyzed and detected inter-conversion pathways for steroid hormones. During his career at Pfizer, he developed new spectroscopic, chromatographic, polarographic, and thermal methods for testing chemical and pharmaceutical products. He supervised all stages of product release from incoming raw materials to finished product and served as a GMP Specialist with responsibility for training employees in Good Manufacturing Practice (GMP) regulations issued under the Federal Food Drug and Cosmetic Act.
He has also volunteered time to assist community organizations such as the Westbury Tenants Association (President), the Allied Home Homeowners Block Association (President), First Family Theater (Executive Director), Brooklyn Law School Minority Alumni Association (Board of Directors), City Bar Association Project on Immigration (Attorney), Shirley Chisholm Cultural Institute for Children, Science Skills Center (Board of Directors), Youth Services Coalition (Board of Directors), Kiddie Academy Parents Association (President), and Board of Deacons of Concord Baptist Church of Christ (Secretary).
While attending Brooklyn Law School and working full time, Mr. Washington served as a National Black Law Students Association delegate and as a Brooklyn Law School Student Bar Association representative. He also won American Jurisprudence awards in Administrative Law and Legal Profession (Ethics) and was selected as a member of the Moot Court Honor Society.
Mr. Washington also received honors from Science Skills Center, Kiddie Academy, the Attorney General, State of New York (Distinguished Legal Service), and NGO Peace Caucus in Cooperation with UNESCO (United Nations Citizen Peace Award).
Contact
Miles Funeral Home
Denise Allen
718-773-4462

Contact