HashCash Partners with Solar Company Energify World for Blockchain Based Vendor Payment Systems
US based Energy company is using HashCash Blockchain network HC NET to make payments to vendors in China, India and Philippines.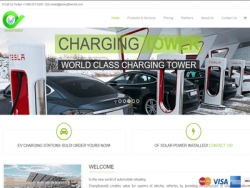 New York, NY, March 27, 2018 --(
PR.com
)--
Energify World
announced today that it has become one of the first energy companies to conduct live vendor payments on a blockchain network. Energify World manufactures Solar panels and electric vehicle charging stations for US customers.
The CEO of Energify World, Mr. Sayantan Bhaduri said in a statement that, "Most of the piece parts that go into our solar panels and EV charging stations are manufactured in China. Our software development and support teams are based out of India and Philippines. Remitting payments to overseas vendors have become increasingly expensive. We have sent our first batch of cross-border vendor payments using Blockchain."
The company says that Vendor Payment is the first of several blockchain applications that it intends to implement.
Blockchain based supply chain management and part tracking is another area of interest. IOT and managing off-grid solar networks is also where the company thinks Blockchain has potential in.
The Managing Director of HashCash, Raj Chowdhury said, "We are excited to have Energify World, a solar company to join HC NET. This proves the versatility of the network in accommodating a diverse set of network participants."
About Energify World
Energify World is a renewable energy company that manufactures ultra efficient solar panels and world class charging stations for Plug-in-Hybrid and Electric Vehicles. The company envisions a world where people drive high performance cars powered by clean energy sources. It strives to create an environment where electric vehicle is the transportation of choice for auto buyers.
About HashCash Consultants
HashCash Consultants
started as a Blockchain Consulting Company in California in 2015. Today, HashCash products enable enterprises to move assets and settle payments across borders in real-time using Blockchain Technology. Banks, Corporate Houses, Domestic Payment Networks, FinTech Companies, and Currency Exchanges use the HC Network for Retail Remittances, Corporate Payments, Trade Finance, and Payment Processing. HashCash has 100+ enterprises using its products in 26 countries.
Contact
Energify World
Nicolas Moore
864-729-4342
https://energifyworld.com/

Contact