TaaS Launches the Updated Cryptographic Audit, Cornerstone of Its Declaration of Transparency
Token-as-a-Service (TaaS), the first-ever tokenized closed-end fund dedicated to blockchain assets, announces the public release of its next-generation Cryptographic Audit.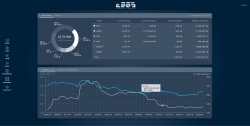 Singapore, Singapore, March 28, 2018 --(
PR.com
)-- Committed to the transparent asset management, TaaS built an in-house Cryptographic Audit (CA) technology to provide high standards for money flow in blockchain projects. In order to completely fulfill its role, TaaS has upgraded its Cryptographic Audit, allowing any member of the public, regardless of TaaS token ownership, to validate TaaS portfolio balances easily.
TaaS has revealed details of the new upgraded Cryptographic Audit, which can be viewed live at
https://taas.fund/audit
Improvement in technology
Implementing a new approach to data uploading and processing makes it possible to demonstrate the maximum accuracy. Information is updated automatically, providing the overview of the portfolio on a daily basis.
TaaS portfolio overview
The animated portfolio pie-chart of TaaS' holdings discloses the list of stored assets and the list of early-stage/vested contributions. Line chart history of TaaS' balances provides the overview of the portfolio changes on a daily basis.
New design
Cryptographic Audit comes with an improved user interface, which makes it efficient and user-friendly. The new design provides better UX for smooth and intuitive interaction.
The alpha of Cryptographic Audit was launched right after the TaaS Token Sale in May 2017. Along with its trading and contribution activities managed in an open and public manner, the team was working hard to improve the Cryptographic Audit.
Today the TaaS team takes pride in their brand new Cryptographic Audit, demonstrating a firm commitment to the policy of openness and transparency.
About TaaS:
Token-as-a-Service (TaaS) is the next generation tokenized closed-end fund actively contributing to the development of the blockchain ecosystem. Utilizing Ethereum blockchain and its Cryptographic Audit technology, TaaS offers a brand new comprehensive approach to capital raising, fund management, and auditing with full transparency for its token holders. TaaS was co-founded by blockchain pioneers Ruslan Gavrilyuk, Dmytro Chupryna, Maksym Muratov, and Konstantin Pysarenko, and employs professional managers hailing from the U.S., Ukraine, Poland, Romania, South Africa and China. TaaS generated a 61% ROA for its first fully-operational quarter (May 1 – August 1, 2017) and a 72% ROA for its second operational quarter (August 1 – October 31, 2017). During its' third fully-operational quarter (November 1, 2017 – January 31, 2018) TaaS capital gains exceeded 22,2 million USD(T) equivalent. Based on the results of the third quarter, TaaS outperformed the global cryptomarket by (generated Alpha of) an est. 82% and Bitcoin by over 205%. As per its covenants, TaaS distributes 50% of capital gains to its token owners, reinvests 25% back to its portfolio and keeps 25% as a performance fee. TaaS token (TAAS) is currently traded on Livecoin, Orderbook, EtherDelta, HitBTC, Liqui, CoinExchange and Bancor Protocol.
Contact
TaaS
Vera Petryk
+380632809118
https://taas.fund
CMO at TaaS.Fund
vera.petryk@taas.fund

Contact