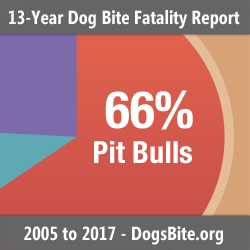 Austin, TX, May 03, 2018 --(
PR.com
)-- DogsBite.org, a national dog bite victims' group dedicated to reducing serious dog attacks, releases a multi-year U.S. dog bite fatality report. From January 1, 2005 to December 31, 2017, canines killed at least 433 people. The majority of these victims were ages 10 and older. The 9-page report examines over 20 factors involved in fatal dog maulings and key changing metrics since a government body last examined this issue in 2000.[1]
View Report: U.S. Dog Bite Fatalities: Breeds of Dogs Involved, Age Groups and Other Factors Over a 13-Year Period (2005 to 2017)
The 13-year report shows that pit bulls contributed to 66% of all dog bite fatalities. Within this period, deaths attributed to pit bulls rose from 58% (2005 to 2010) to 71% (2011 to 2017), a 22% rise. Rottweilers, the second most lethal dog breed, inflicted 10% of attacks resulting in death. This is a decrease from an earlier period (2005 to 2010) when rottweilers inflicted 14% of the total recorded deaths. Together, these two dog breeds accounted for 76% of all deaths.
The 9-page report examines the breeds involved in fatal attacks on humans, age groups and genders of the victims, the number of dogs involved, family and dog relationships, property statistics, household and time factors, criminal prosecutions following fatal dog attacks and states with the most occurrences. The report also compares two metrics -- the age of victims and the number of attacks involving 2 or more dogs -- to years previously studied (1979 to 1998).
The report shows that 52% of dog bite fatality victims were ages 10 years and older, a 73% rise from the early government study years (1979 to 1988) when victims 10 years and older only comprised 30% of all deaths.[2] Today, across all age groups, children ages 0-2 suffer the most deaths, 27%. Infants, 11 months old and younger, comprised nearly half, 48%, of this group. The 50-69 and 70 and older age groups followed, each accounting for 18% of all fatality victims.
The report also shows the growing number of fatal attacks involving multiple dogs since the 1980s and 1990s. Over the 13-year period, 47% of fatal attacks involved 2 or more dogs. This is a 57% rise from the government study years (1979 to 1994), when only 30% of deaths involved 2 or more dogs attacking.[3] The report shows that 53% of all deadly dog attacks involved 1 dog; 24% involved 2 dogs; 8% involved 3 dogs and 15% involved a pack of 4 or more dogs.
Criminal Charges and State Information
Over the 13-year period, 21% of all fatal dog maulings resulted in criminal charges. Pit bulls were implicated in 75% of these criminal cases and at a rate 2.5 times higher than rottweilers, the next closest dog breed. The report shows the majority of all dog bite fatalities, 54%, occurred in the Southern United States and details the nine states with the most fatal dog maulings. Texas led all states with 54 deaths. California followed with 45 deaths and Florida with 29 deaths.
The report contains multiple tables, including a list of all dog breeds involved, a comparison of two periods within the 13-year period, the rising number of adult victims and the shrinking number of attacks inflicted by a single dog. The tables also show which of the nine states filed the most criminal charges after a fatal dog mauling. Michigan had the highest rate, 31.5%, Texas and Florida filed charges below the national average of 21% and Illinois filed zero charges.
About Us
DogsBite.org is a national dog bite victims' group dedicated to reducing serious dog attacks. Through our work, we hope to protect both people and pets from future attacks. Our website, www.dogsbite.org, was launched in October 2007 and contains a wide collection of data to help policymakers and citizens learn about dangerous dogs. Our research focuses on pit bull type dogs. Due to selective breeding practices that emphasize aggression and tenacity, this class of dogs negatively impacts communities the most. Our website hosts important dog bite studies, U.S. dog bite fatalities and other key bibliographies. In the Legislating Dogs portion of our site, we offer examples of breed-specific laws (state-by-state) and documentation of the constitutionality of these laws. The Victim Realities section provides a glance into the unforgettable histories victims leave behind and much more. DogsBite.org operates out of Austin, Texas and can be contacted via 512-650-8510 or press@dogsbite.org. Research contributions and active website participation stems from individuals that span the United States of America and across the world.
References:
[1] Sacks JJ, Sinclair L, Gilchrist J, Golab GC, Lockwood R. Breeds of dogs involved in fatal human attacks in the United States between 1979 and 1998. JAVMA, 2000;217:836--40.
[2,3] Sacks JJ, Sattin RW, Bonzo SE. Dog bite-related fatalities from 1979 through 1988. JAMA. 1989;262:1489–1492.
[3] Sacks JJ, Lockwood R, Hornreich J, Sattin RW. Fatal dog attacks, 1989-1994. Pediatrics. 1996;97(6, pt 1):891-895.