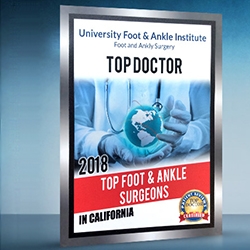 Los Angeles, CA, May 07, 2018 --(
PR.com
)-- Two podiatric specialists from University Foot and Ankle Institute (UFAI) were named top doctors in Southern California by Los Angeles Magazine. This year marks the first time podiatrists have been included in the list, and UFAI was the only group to have two doctors selected for this honor.
The University Foot and Ankle Institute was also named the Top Foot and Ankle Surgery Group in the state of California by the Top Doctors Awards group.
"This is a great honor for our UFAI and shows that our entire group offers exceptional care for foot and ankle problems," said Dr. Gary Briskin, a co-director at the Institute.
The Top Doctors list is the first of its kind from Los Angeles Magazine, although lists like it are a "staple" for many other city magazines across the country. The data was compiled via a rigorous peer-to-peer survey, by specialty research firm Professional Research Services in Troy, Michigan.
Dr. Bob Baravarian, co-director of University Foot and Ankle Institute was named to the magazine's list. He is a board certified foot and ankle surgeon with emphasis in sports medicine, reconstructive surgery and revision surgery of the foot and ankle.
Dr. Baravarian also travels nationwide training surgeons in the use of the latest state-of-the-art technologies, minimally-invasive surgical techniques and surgical devices. Dr. Baravarian is available for in-person consultations in Santa Monica and Sherman Oaks California. He is also available for consultation to patients worldwide using UFAI's secure online virtual consultation service.
Dr. Stephen Schwartz, a member of University Foot and Ankle Institute, was also named to the best doctor list from Los Angeles Magazine. He is a long standing member of the podiatry community and has run the Baja Crippled Children's Project for over 30 years. Dr. Schwartz is available for consultations in the Los Angeles Mid-Wilshire office.
Dr. Baravarian said the two awards validate the stellar care and surgical work offered by the group. "It means so much to us that they've chosen UFAI for this distinction," he said. "It goes to show just how much hard work and dedication the entire team here has put into our patient care."
University Foot and Ankle Institute is the largest foot and ankle group in Southern California. With 10 doctors, 3 physical therapists, a surgical center, MRI, CT and diagnostic facilities, our 10 locations offer state of the art care in your back yard. UFAI is opening two additional offices this summer in Westlake Village and Thousand Oaks.
For an appointment or further information or to make an appointment, please call (877) 989-9110 24 hours a day, seven days a week or visit
www.footankleinstitute.com