Team Extension Achieves ISO 9001: 2015 Certification
The company has been awarded the ISO 9001: 2015 certification standard after passing a recent audit by the UK branch of Bureau Veritas Certification Holding SAS.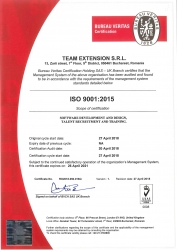 Geneva, Switzerland, May 09, 2018 --(
PR.com
)--
Team Extension
, the leading workforce partner in Eastern Europe, has announced they have been awarded with the ISO 9001: 2015 standard after passing a recent audit by the UK branch of Bureau Veritas Certification Holding SAS.
The globally recognized ISO standard ensures that the core services of software development and design as well as tech talent recruitment and training meet the requirements of Team Extension's international customer base.
The updated ISO 9001: 2015 standard is based on a number of quality management principles including a strong customer focus, the motivation and implication of top management, the process approach and continual improvement and underlines Team Extension's commitment to providing a high level of customer satisfaction. In order to pass the independent external audit Team Extension had to demonstrate on-site that an effective quality management system is in place.
Moe Jame, CEO Team Extension commented: "From the very beginning our company had a quality system in place and now we are delighted that our continued hard work is recognized through the ISO 9001:2015 certification. For us this underlines how serious we are about the quality and service we provide to our customers."
According to the International Organization for Standardization there are over one million companies and organizations in over 170 countries certified to ISO 9001. Using ISO 9001:2015 helps ensure that customers get consistent, good quality products and services, which in turn brings many business benefits.
About Team Extension
Since its inception, Team Extension has grown rapidly and is now the leading platform to hire dedicated developers in Eastern Europe, with over 50 employees and 7 offices currently serving Fortune 500's clients globally.
Contact
Team Extension AG
Alexia Roby
+49 30 56837990
https://teamextension.de

Contact