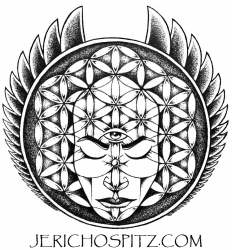 Chicago, IL, May 15, 2018 --(
PR.com
)-- Not many artists get to spend almost their entire life performing on stage. Infinite passion and persistence is the key to longevity.
Performing solo on stage at 5-years old, it was clear early on that Christopher Tolen would spend his life entertaining people. His dream of crowds watching him destroy microphones has been long-lived as he traversed the music world exploring every form of Hip-Hop as LUNATIC The Messiah and eventually adding Reggae to his repertoire of musical ammunition.
Hailing from Chicago, now comes Reggae Fusion's latest independent act, Jericho Spitz, holding down #1 slots on national independent Reggae charts from Reverbnation to Numberonemusic.com.
Jericho's recent rise to stardom is due to several hit singles from his upcoming album entitled The Jericho Spitz LP, accompanied by impressive music videos directed by Midnight Cinema's Paul John and a co-starring and executive production role in the new gangster/pool-hustling movie "Loan Me A Dime" also from Midnight Cinema
After the unexpected release of the "Jericho Shitz" mixtape, a few weeks ago, Jericho is now currently polishing his debut album and making his first pilgrimage to Jamaica for two weeks near the end of May 2018 to shoot two music videos and team up with Mudslide Keyboards from Ochos Rios to work with the band he'll be touring with upon the release of his full-length album.
With his raspy voice, superb writing skills and unique fusion of Reggae and Hip-Hop, Jericho Spitz is quickly becoming a force to be reckoned with in Reggae music.
Jericho Spitz is a recording artist on the Cadre Enterprises independent record label.
Latest Press:
http://reggae.sevillalocalmedia.com/reggae-fusions-hottest-new-independent-act-jericho-spitz/
EPK:
http://www.reverbnation.com/rpk/jerichospitz
Social Media:
http://wwww.jerichospitz.com
http://www.youtube.com/jerichospitz
http://www.soundcloud.com/jericho-spitz
http://www.facebook.com/jerichospitz
http://www.instagram.com/jerichospitz
http://www.twitter.com/jerichospitz420
PR Contact:
Monique Chavez, 312-792-9126, jericho@jerichospitz.com