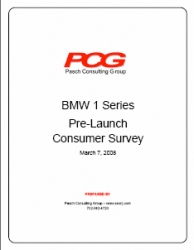 Rumson, NJ, March 08, 2008 --(
PR.com
)-- The Pasch Consulting Group (PCG) released their results of a survey of over 650 US consumers who had expressed an interest in the new BMW 1 Series cars over the past 12 months. The BMW 128i and 135i will be in dealer showroom around March 22, 2008.
The survey which contained 10 targeted questions seeking to understand the current mindset of potential 1 Series buyers and BMW enthusiasts. Brian Pasch, CEO of PCG added, "BMW dealers have commented to us that their 1 Series preorder sales were very low. This gave us the idea to conduct the survey and find out why."
Pasch Consulting Group summarized the survey results as follows:
1. BMW has priced the 1 Series very close to the 3 Series forcing consumers to hold off pre-orders until they can see and drive the car. Many may end up buying a 3-Series model instead of a 1-Series car.
2. The pricing strategy has angered many initial BMW 1-Series customers and consumers which consider the car overpriced. Pricing has driven many away from buying.
3. The 3-Series may actually be a "down sell" for BMW dealers as consumers find better value and lower lease payments on a comparable 3-Series car. BMW 3 Series sales may actually get a bump from the 1 Series launch.
4. The clear consumer favorite is the BMW 135i which may make it harder for dealers to sell the 128i models with internal competition from the 3 Series models and outside competing models.
5. Competition from Audi A3 and A4 as well as the Infiniti G37 will give price sensitive shoppers a compelling purchasing alternative to what is perceived as an overpriced 1 Series initial pricing model.
To read the entire survey results and over 400 consumer free form comments addressed to BMW USA, you can download the 29 page report by visiting the Pasch Consulting Group website at:
http://www.seonj.com
###