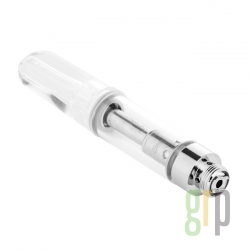 Brea, CA, June 13, 2018 --(
PR.com
)-- Green Rush Packaging, a nationwide provider of premium cannabis packaging, has announced the addition of vaporizer cartridges to the their product lineup. The packaging company will carry a variety of sizes, colors, both glass or polystyrene and wick or ceramic cartridge varieties.
As Green Rush Packaging celebrates the closure of their first full year in the cannabis packaging space, they've continued to devote their time to high-level analysis and strategy. Their team has explored their successes with their current product offering, and has surveyed the market for opportunities and products that would complement their packaging-focused business model.
Vaporizer smoking alternatives have gained considerable traction in the cannabis marketplace due to health benefits against other alternatives, ease-of-use design and odorless output. According to NCIA's BDS Analytics figures, growth in just the west coast (CA, CO, OR, WA) vaporizer market touts $1.84 billion (57.7%) between 2016 and 2017 calendar year alone. Vaporizer products meet the needs of today's professional cannabis consumer and are anticipated to be mainstay in the future of the cannabis industry. High demand, coupled with considerable margins and higher per unit price points (against other commonplace cannabis items such as pop tops), makes adopting cartridges into the Green Rush product offering an ideal choice.
Due to their longstanding manufacturing relationships, Green Rush Packaging is positioned to launch their cartridge line at market-low cost points for any minimum order quantities (MOQs). This aligns with their motto that is presently reflected in all other product categories; "Affordability to cannabis businesses of all sizes."
"Green Rush Packaging has positioned itself as the premium cannabis packaging solution. As such, the addition of vaporizer cartridges was the next logical step in meeting the all-inclusive needs of our customer base. We can see where the industry demand is trending and are immeasurably blessed to be in the position to capitalize on this by bringing competitively priced items to the cannabis packaging marketplace," said Jimmy Hou, VP of Purchasing at Green Rush Packaging.
For more detailed product information on the vaporizer cartridges, please visit:
https://greenrushpackaging.com/
Green Rush Packaging
Green Rush Packaging is a national provider of premium cannabis packaging meeting the needs of cultivators, dispensaries and edible brands. They service both East and West coast businesses with headquarters located in Brea, CA and a warehouse facility in Portland, TN.
Green Rush Packaging's wide product offering includes vaporizer or vape cartridges, bottles, pre roll tubes, glass jars, concentrate containers, barrier bags, exit bags, coin envelopes and child resistant products all available in stock or with customizable branding. All products are designed with shelf-life in mind, to keep any flower, oil, wax, shake, shatter, concentrate, edible and CBD at optimal freshness. Green Rush Packaging offers hundreds of sizes, styles and colors, so every brand has the option of fully customized cannabis packaging. For more information, visit
www.greenrushpackaging.com.
Social Media
-
Instagram.com/greenrushpackaging
-
Facebook.com/GreenRushPkg
-
Twitter.com/greenrushpack
-
Linkedin.com/company/greenrushpackaging