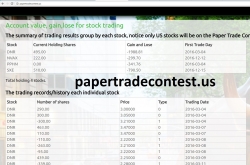 Palo Alto, CA, June 27, 2018 --(
PR.com
)-- Paper Trade Contest (PTC) is now offering a one time $500 cash prize for the member who stays on the top 1 position in the stock trading competition. Second and third position prizes will be $200, $100 respectively. The contest is for a one month period between July 25th to Aug 25th, 2018.
PTC offers a brand new online platform for the stock trading/investing market space, and will greatly improve the trading experience and efficiency for the broader investor community.
Anyone who has an email address is eligible to register and join the competition. Newly registered members (after June 25th, 2018) will get a 3 month free premium membership, which is required for the cash prize. PTC provides a user friendly online trading platform, enables members to spend very little time and effort to join the competition. The account value will be automatically calculated and show up in the competition, without any additional work/efforts from members. Register and join the competition today at
papertradecontest.us
.
Paper Trade Contest (PTC) is a state of the art online personal customized stock investing/accounting tool, with a built-in stock trading contest platform. Go to
papertradecontest.us
for contact, registration, and more information. Registering requires only a valid email address. After registration, the account will be available immediately to use.