Jim Dine Prints
The beautiful and colorful world of Jim Dine prints as presented by Jonathan Novak Contemporary Art gallery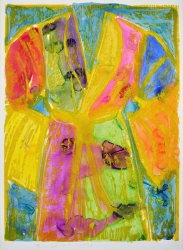 Los Angeles, CA, July 02, 2018 --(
PR.com
)-- Jonathan Novak Contemporary Art gallery in Los Angeles is pleased to present a curated collection of
Jim Dine prints
. Jim Dine prints are known for their strong, graphic style, bright colors, and straightforward, popular imagery. This aesthetic is apparent in all of his work - especially his prolific catalogue of prints.
Printmaking is part of Jim Dine's daily life as an artist; he is considered to be among the top printmakers of the 20th century. Dine has a passion for printmaking because it allows him to collaborate with others and it makes his art more accessible.
Dine is known for his iconic images, particularly hearts, tools and bathrobes. Throughout his remarkable career, his fascination with the process of making multiples has never waned and he has incorporated these iconic themes into his work as a printmaker. His latest work, however, features abstract themes that are bold and unique to his oeuvre. They are thrilled to be able to share this new work along with the more prototypical work from the past.
Dine uses many different techniques to create his varied prints. He often uses copper plates, stones and wood blocks, sometimes in combination. He also has a lifelong love of power tools that stems from childhood days spent in his grandfather's hardware store. He frequently uses these tools in his drypoint etchings to "draw" on the metal plate. Dine likes to augment the printed images by painting or scratching directly on the work thereby making each print a virtual "sui generis."
Jim Dine (born 1935) is a painter, printmaker and sculptor often associated with the American Pop Art and Neo-Dada movements. Dine was born in Cincinnati, Ohio and studied at the University of Cincinnati during his senior year of high school, later earning his BFA at Ohio University (Athens) in 1957. Dine moved to New York in 1959 where he became a key figure in the Happenings movement. Although Dine's prominence in the New York art scene led him to befriend Pop Art figures including Claes Oldenburg and Roy Lichtenstein, his works strayed from the traditional subjects typically associated with that movement. Jim Dine made his first print at the age of seventeen and has continued to produce extraordinary work throughout his artistic career.
About Jonathan Novak Contemporary Gallery:
http://novakart.com
Jonathan Novak Contemporary Art, a long-standing gallery in Southern California, is an important source for Post-War and Contemporary American and European art. The gallery is located in the heart of Century City, adjacent to Beverly Hills and the west side of Los Angeles. The gallery's extensive inventory includes paintings, drawings, sculpture, and prints by acclaimed artists from significant Post-War movements including Abstract Expressionism, Color Field, Minimalism, Pop Art, and Photorealism.
Jonathan Novak has been an exhibitor at international art fairs in New York, Chicago, Los Angeles, Miami, San Francisco, Palm Beach, Palm Springs, Southampton, and Aspen. He is a board member of the Fine Art Dealers Association (FADA) as well as The International Fine Print Dealers Association (IFPDA), and is a member of the Private Art Dealers Association (PADA).
Contact
Jonathan Novak Contemporary Art
Annie Burrows
310-277-4997
novakart.com
annie@novakart.com

Contact