Digitory Legal Joins Global Legal Blockchain Consortium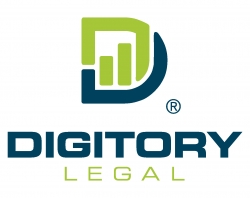 San Francisco, CA, July 21, 2018 --(
PR.com
)-- Digitory Legal announced today that it has joined the Global Legal Blockchain Consortium (GLBC), an organization that is bringing together stakeholders across the legal industry to create standards for governance of the use of blockchain in law. Members include over 30 large companies, law firms, technology providers and universities.
"Digitory Legal builds solutions for the future of the legal market, a market that is evolving quickly," says Catherine Krow, CEO of Digitory Legal. "Blockchain is a game-changing technology that will be part of that future."
Blockchain is a distributed digital ledger of encrypted transactions, or blocks of data, running across millions of devices connected via distributed networks. Once a transaction is validated, data in a blockchain is resistant to alteration, hacking or deletion. Members of the GLBC build prototypes to test the applications of blockchain in law.
"Blockchain is a powerful, transformative technology," says Shawn Cunningham, Digitory Legal's Chief Technology Officer. "There are many potential applications to the business of law and to our platform. We are excited to explore those possibilities in collaboration with the GLBC."
About Digitory Legal
Digitory Legal is a litigation cost prediction and management solution for law firms and corporate legal departments. Using historical data and industry trends, Digitory Legal helps its customers understand what litigation matters cost and why. With this insight, law firms can align their resources and offer the right fee structures to meet clients' needs.
Contact
Digitory Legal
Catherine Krow
1 (888) 811-7211
digitorylegal.com
ckrow@digitorylegal.com

Contact