Sitters4Critters Introducing Pet Nanny Services in Levittown. Caring for Your Pet When Class is Back in Session.
Sitters4Critters' pet nanny is the governor of all pet sitters. She is an expert in pet care, medications and injections. She supervises and makes sure clients are wow'd in every possible way so they keep coming back for more.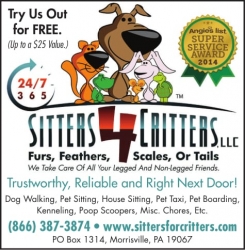 Levittown, PA, August 02, 2018 --(
PR.com
)-- Some pet owners work very long hours, and not all the time is someone around to let the dog out. Friends and family have their own schedules, and the kids will be back to school soon. All types of animals usually need constant care throughout the day. Hiring a
Levittown pet nanny
would be of great assistance to pet owners. Sitters4Critters can provide just that. After all, being a pet owner is not always a "walk in the park." There are many more duties than some people honestly realize concerning critters.
Caring for your pet is an around the clock job. Making sure their needs are met is always most important. Sometimes, working long hours calls for help with attending to those four legged friends. Vacation time plays a role in the lives of pet owners, calling for a trustworthy pet companion while owners are away. Sitters4Critters pet sitters are highly experienced and trustworthy in
administering pets medications
. Whether in home pet boarding, or if a pet's comfort is preferable in their own home, Sitters4Critters can help. Some furry little ones require daily medications, and having the confidence that there is an experienced professional there to meet those requirements can be a huge sense of relief. Even more reason to enjoy your vacation.
Daycare professionals can be there to care for pets throughout the day. However some four legged friends need extra care. Not all the time is one able to get out of a day in the office for a pet's routine checkup and vaccines. Vet appointments can be made with a Pet Taxi ready to go, as well as monthly grooming appointments. Sitters4Critters' certified groomers will be sure to pamper the pooch.
Pet waste removal
is also a duty in the lives of pet owners. Deciding to mow the lawn in a pinch usually requires some clean up first. Booking weekly waste removal with Sitters4Critters can definitely take some time off of homeowners' hands in concern to the back yard. Anything you can think of revolving around pet care needs, Sitters4Critters will happily oblige. Not to mention it's one less thing on the agenda for the week.
As animal lovers, we all know there aren't just the four legged critters. Sitters4Critters has accommodations for fur, feathers, scales, and tails. Experienced professionals with exotics are hard to come by. Reptiles require a very distinct habitat and environment, and parrots require a lot of patience and interaction. Equine and aquatic professionals can be very scarce as well, especially in urban areas. Being owners of these wonderful animals themselves, Sitters4Critters will create a safe and fun routine for both pets and owners.
Overall, pet owners can go to work everyday with the confidence that the dog walker will be there on time. Sitters4Critters has proven Best Of Bucks 2018 in animal care. Succeeding with any animal sent their way, Sitters4Critters will leave all pets feeling loved and comfortable. Surely kids will be eager to come home after school to their happiest best friend. So, consider welcoming a pet nanny into the lives of your critters for their best daily care. A hardworking pet owners' needs are important too. Get in contact with a pet sitter, sit back, and relax.
About Sitters4Critters
Lifelong Philadelphia resident Tristan Hamburg founded Sitters4Critters in 2013, with the goal of providing the very best service and care for pets whose owners were out of town. The licensed and insured company takes care of all animal types, along with the walking, boarding, medication administration, and other duties that go with it. Mobile vet tech service is the latest addition to the comprehensive range of animal care the company provides.
Contact
Sitters4Critters
Tristan Hamburg
866-387-3874
https://www.sittersforcritters.com

Contact