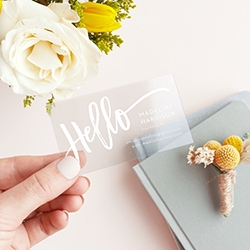 Saint George, UT, August 22, 2018 --(
PR.com
)-- One of the top stationery companies, Basic Invite, implemented a new wave of
chic clear business cards
, to their vast stationery range. August of 2018, the "Truly Custom" brand, came out with over fifty unique clear business card designs. In order to keep up with the company's success, Basic Invite is consistently providing new completely customizable templates, for their customers to utilize, for their next big event.
With clean white text and professional designs, one can personalize their business cards specifically for their thriving business. Templates for hair stylists, personal trainers, realtors, photographers, and caterers, are just a few of the many options people can choose from to help broadcast their growing business. Being that it is Basic Invite, of course, you can edit your clear business cards' fonts exactly how you would like. Rather than select from a few generic fonts, one can browse from tons of unique fonts, to see what best fits your business and brand. Another feature Basic Invites clear business cards offer, is that one can select from two different finishes: frosted, or clear.
The standard clear is a 15 mil vinyl (plastic) stock, and the frosted finish is a 15 mil vinyl (plastic) stock, as well. The frosted finish has the appearance of vellum, with a soft frosted look, but with the rigidity and feel of Basic Invites traditional clear stock. "No matter the finish a customer chooses to go for, they can be confident that they will receive a high-quality product and a fun, distinct design that fits not only their company but their personality, perfectly," says Eric Mortensen, CMO of Basic Invite.
About Basic Invite
Basic Invite is a stationery brand based in St. George, Utah, founded by Brock Bacik. What started as a small business quickly developed into a worldwide brand over the last few years; beginning in 2006, Basic Invites motto is to provide their customers with limitless options that allow them to create a card that is truly unique, instantly. Cards for anything wedding, baby, milestone events, business, and even free wedding websites, are just a few of the main topics to browse on Basic Invites easy-to-use website. For more information, please visit the company's website at
https://www.BasicInvite.com/
.