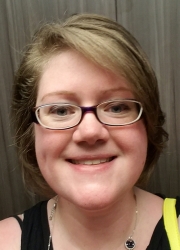 Avon, IL, September 11, 2018 --(
PR.com
)-- Nicole E. Vick of Avon, Illinois has been recognized as a Woman of Empowerment by P.O.W.E.R. (Professional Organization of Women of Excellence Recognized) for her outstanding achievements and high level of success for almost 20 years in the field of education.
About Nicole E. Vick
Nicole Vick has taught science for the past 15 years and has been involved in curriculum development for the past 4 years. She is a Curriculum Writing Associate for Great Minds. She is the Lead writer for NGSS-Aligned curriculum. Ms. Vick has taught all science subjects at the high school level. Over the course of her career she has also served in positions for the National Science Teachers Association and Illinois Science Teachers Association. She is a NGSS@NSTA Curator and Learning Facilitator with the National Science Teachers Association and works on developing NGSS aligned resources with nextgenstorylines.org. Nicole is a Region 3 ISTA Director, Earth and Space Science Director for ISTA Professional Learning Team, and served as an Area Teacher Leader for the I-STEM MSP Grant.
Ms. Vick participated at the NGSS Share-A-Thons at the 2015 NSTA National Conference in Chicago, IL, 2017 National Conference in Los Angeles, CA, and 2018 National Conference in Atlanta, GA. She presented on example phenomena, storylines, and assessment, respectively. She also created a handout on why using phenomena to drive three dimensional learning is important and how to choose them. In July 2017, Nicole wrote, "Using Claim, Evidence, and Reasoning (CER) Strategy to Improve Student Learning" for NSTA Next Gen Navigator.
Nicole states that her fourth grade teacher instilled in her a love of science. After obtaining a B.S. in General Biology from Northern Illinois University in 2002, Nicole obtained a P.M.A. in Environmental Science Education from Bradley University in 2013. She has served as a Science Teacher at Peoria Public School District 150, Avon CSUD 176, Abingdon-Avon CUSD 276, and Galesburg CUSD 205 where she continues to teach at Galesburg North High School.
Nicole is the District Director for the National Science Teachers Association and the Regional Director for the Illinois Science Teachers Association. Her future goal is to grow as a professional development provider. In her spare time she enjoys bowling and reading.
"The nitrogen in our DNA, the calcium in our teeth, the iron in our blood, the carbon in our apple pies were made in the interiors of collapsing stars. We are made of starstuff." - Carl Sagan, Cosmos
About P.O.W.E.R. (Professional Organization of Women of Excellence Recognized)
P.O.W.E.R is a website as well as a digital and print magazine featuring professional and famous women. Our mission is to provide a powerful network of empowering women who will mentor and inspire each other to be the best they can be. Through our valuable services, our members can collaborate with like-minded professionals, gain recognition and obtain knowledge from those who have already achieved success.