Newest Book Release, "Life Signs and Fortune Cookies" by Author Melanie Simms Offers Powerful Messages in a Small But Mighty Book
A small but fun and quirky collection of short stories and poems was just released by Brown Posey Press. The book, authored by inspirational and often humorous author, Melanie Simms, is now available for purchase. Take this little pocket sized book, Life Signs and Fortune Cookies with you on the train or plane or boat for a literary journey filled with little green men, life after death themes, and supernatural romance. This book offers a "little" something for everyone.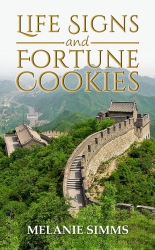 Port Trevorton, PA, September 03, 2018 --(
PR.com
)-- Melanie Simms' third book, "Life Signs and Fortune Cookies" is now available for purchase through Amazon.com, Barnes and Noble, Sunbury Press and many other notable book outlets.
This small but mighty book packs powerful messages with a fortune cookie theme, tailored after her short story, "Life Signs" a finalist in the Adelaide Literary Competition.
"Life Signs and Fortune Cookies" features themes on alien life, planetary exploration, supernatural romance, and life after death. Rising in the Amazon Family Fiction/Poetry Category Ranking, this book feeds the hungry soul in search of meaning, love and family values through a modern lense.
Included throughout her book is a remarkable collection of photography by her long-time friend, military historian, Vietnam veteran and photographer Dr. Patrick Albano.
No fortune cookies were harmed in the making of this book.
Contact
Author Melanie Simms
Melanie Simms
570-600-3298
https://www.sunburypressstore.com/Life-Signs-and-Fortune-Cookies-9781620062302.htm
Sunbury Press, Lawrence Knorr, 1-855-338-8359

Contact