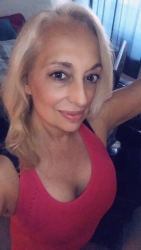 Nashville, TN, September 19, 2018 --(
PR.com
)-- Lisa Torch of WomanWarriorFitness.com today announced the re-launch of her company's website and health and fitness programs for women over 50.
"I'm going to tell you that you can absolutely get in the best shape of your life after age 50," said Torch. "Especially for women, who may have given up on health and fitness – I will provide a blueprint and an easy to follow fitness and nutrition plan that won't cause injuries or stress on the body."
Great Results
Although Woman Warrior Fitness is a relatively new company, Torch has been in and around the fitness industry since 1979 when she managed a Fifth Avenue fitness studio in New York City. She is a Certified Personal Trainer and Health Coach, as well as a Life Coach. Her clients have achieved stellar results and attribute them to Torch's caring and consultative approach.
Torch's premier E-book, Woman Warrior (Your Best Body and Best Life Over 50), as well as custom meal plans and a free Ketogenic Diet guide, are available for immediate download at
www.womanwarriorfitness.com
.
Founded in 2016, Woman Warrior Fitness an industry leader in fitness for the 50-plus generation.