Delfinia Group - Specialists in Tailor-Made Luxury Vacations, Honeymoons, and Events - Expands to Include Paris and the French Riviera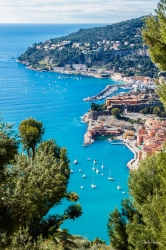 Greenwich, CT, October 30, 2018 --(
PR.com
)-- Delfinia Group has added Paris and the French Riviera to their luxury travel destination expertise. With deep knowledge and experience in Greece and the Greek Islands, Delfinia Group has expanded into France at the request of repeat clients who enjoyed the bespoke travel experiences and white glove service for which Delfinia is known, but wished to explore a new destination.
"Paris and the French Riviera are two iconic destinations that many people have on their bucket list, and for good reason. These destinations feature important museums and monuments, endless history, and stunning landscapes that are the perfect canvas for leisure travel, as well as special events such as a wedding or special anniversary celebration. We at Delfinia Group excel in taking you a step further, backstage as it were, where you live authentic experiences that capture the essence of life in France and create memorable moments," says Delfinia Group's France expert, Sylvia Fondanèche, who lives in Paris.
When asked to describe how to travel today far from mass tourism and respecting the local environment, Sylvia advises, "It's about the people, the food, fun times, good entertainment, taking the back roads, the simple luxuries, quality over quantity. This is my travel style and one that I am eager to share with visitors so that they can know Paris and the French Riviera as I do, as a local."
"We are very pleased to have partnered with Sylvia, whom I have known for years. Sylvia's artistic sense and love of Paris, where she has lived most of her adult life, allow us to create amazing culinary, art, and architecture thematic walks and tours in the City of Light - behind the scenes experiences unlike any other. And Sylvia knows well the French Riviera, which she frequently visits with her photographer husband. Our French destination expertise is the perfect complement to Greece," adds Nancy Mantzikos, Founder and CEO of Delfinia Group.
About Delfinia Group
With offices in Mykonos, Greece and Greenwich, Connecticut, Delfinia Group (
www.DelfiniaGroup.com
) specializes in arranging tailor-made luxury vacations, honeymoons, and special events in Greece and the Mediterranean. Delfinia Group's bespoke travel itineraries and events appeal to those seeking authentic, local experiences that only an insider, such as Delfinia Group, can arrange. And Delfinia's highly personalized experiences go the extra step - each travel itinerary, destination wedding, and special event is loaded with white glove service and is designed to cater to the interests and style of a particular client.
Contact
Delfinia Group
Nancy Mantzikos
+1 203 698 9244
https://delfiniagroup.com
Greece: +30 698 425 8084

Contact