National Institute for Jail Operations and The Foundation for a Drug-Free World Announce Strategic Partnership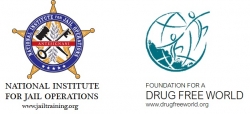 Los Angeles, CA, October 04, 2018 --(
PR.com
)-- The National Institute for Jail Operations (NIJO) and The Foundation for a Drug-Free World (FDFW) are pleased to announce a strategic partnership to address the serious and significant issues caused by the use of drugs. Effective immediately, NIJO and FDFW will work together to provide jails across the United States valuable information and resources about drugs and their destructive side effects so that individuals can make informed decisions and live drug-free lives.
The connection between drugs and jails is obvious and its negative impact for those incarcerated, their families and those who operate jails cannot be understated. Jails have become a dumping ground for those with drug addictions, often becoming detox centers and de facto mental health centers – with very little funding and resources. A new arrestee often enters under the influence of or has serious addictions and withdrawals from using drugs such as alcohol, marijuana, meth, opioids, synthetic drugs, bath salts, and unauthorized use of prescribed medications. Drugs create enormous custody, operational control, care, safety and liability challenges for correctional staff and are costly to our society and jail administrations - a cost which taxpayers must fully bear.
Whether being incarcerated directly (drug related charges) or indirectly (i.e., theft to support a drug habit or violence while under the influence), jails provide arrestees shelter, food, clothing and medical care which they might not receive if on the street. However, many are soon released and the behavior, addictions and cycle continues and repeats without education and ongoing support. Providing FDFW resources is a proactive way for those incarcerated and their families to receive factual information about drugs and empower them to make necessary changes in their lives. Recognizing the few resources available to jails, NIJO will encourage active participation and dedicate resources to assist and connect detention facilities with FDFW resources across the United States.
Participating jails will receive access to FDFW information, tools, resources and activities - at no cost to taxpayers or those incarcerated and their families. These include a worldwide network of volunteers, programming, educational handouts and recovery tools, and more. To learn more about this partnership or how to join the fight against drugs, contact NIJO or FDFW.
About The National Institute for Jail Operations
The National Institute for Jail Operations (NIJO) was formed as the primary resource dedicated to serve those that operate jails, detention and correctional facilities. NIJO provides agencies a compilation of legal-based resources, tools and information to make facilities safer and more secure, assist with operational policies and procedures, and proactively defend against frivolous litigation. Services include legal-based guidelines used by over 150 agencies, national officer certification and accreditation, the only recognized legal-based online training academy (over 23,700 credit hours completed), verification audits and inspections for agencies, legal and technical consultation, and over 13,800 attendees trained at NIJO seminars, events and conferences.
www.jailtraining.org
About The Foundation for a Drug-Free World
The Foundation for a Drug-Free World (FDFW) is a nonprofit public benefit corporation that empowers youth and adults with factual information about drugs so they can make informed decisions and live drug-free. Through a worldwide network of volunteers, 50 million of drug prevention booklets have been distributed, tens of thousands of drug awareness events have been held in some 180 countries and Truth About Drugs public service announcements have been aired on more than 500 television stations. These materials and activities have helped people around the world learn about the destructive side effects of drugs and thereby make the decision for themselves to not use them.
www.drugfreeworld.org
Contact
National Institute for Jail Operations
Darla Gray
801-810-5245
www.jailtraining.org
FDFW
Angela Marion
970-274-6417
angelamarion@msn.com

Contact