Parsec Partners with PREMIER on Discrete Manufacturing CoE
Anaheim, CA, Oct 9, 2018. Parsec Automation Corp. announces that PREMIER System Integrators, a Parsec Gold Certified Partner, is now serving as a Discrete Manufacturing Center of Excellence for TrakSYS™ in North America.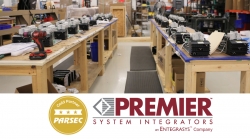 Nashville, TN, October 09, 2018 --(
PR.com
)-- PREMIER is leveraging their extensive knowledge of Manufacturing IT, Lean methodology, and Discrete Manufacturing to display the capabilities of TrakSYS within their own control panel manufacturing shop. The TrakSYS panel manufacturing implementation is available to Parsec customers and partners as a training and demonstration center. The implementation includes:
• ERP Integration
• Timesheet Integration
• Tablet – touch screen operator interface
• Big screen real-time performance dashboards
• Operator and Job Performance
• Paperless
- Quality Control and Quality Assurance Checklists
- Work Instructions
• Quality Root Cause and Pareto Reports
• Performance Loss Root Cause and Pareto Reports
• Detailed Scheduling
• WIP and Inventory Interface
• Inventory Cycle Counts
"In order to maintain a competitive advantage and attract a new workforce, manufacturing companies have no choice but to embrace and leverage information technology. As an integrator and a manufacturing company, we welcomed the opportunity to leverage TrakSYS in our discrete assembly operation. We continue to realize new benefits from our TrakSYS implementation and invite you to come see our Digital Transformation unfold," said Andy Ask, Operations Manager at PREMIER.
Commenting on the news, Michael Stephens, EVP of Sales and Customer Relations, said "Parsec is genuinely excited to have TrakSYS as the software platform of choice for PREMIER'S Discrete Manufacturing Center of Excellence. Combining PREMIER'S discrete core competency, strategic capability and best practices with TrakSYS, Parsec's manufacturing operations management software, will be a win for customers and the industry at large."
About PREMIER System Integrators
Founded in 1991 to provide turnkey system integration services for manufacturing facilities in the southeast, PREMIER System Integrators, Inc.™ has grown to be a multifaceted organization providing a wide range of services to manufacturers across the U.S. From its headquarters in Smyrna, TN, about 20 miles southeast of Nashville, PREMIER offers panel fabrication and installation, as well as ICS cyber security and network architecture services in addition to its core business of industrial controls and manufacturing information systems integration.
For more information about PREMIER, visit www.premier-system.com
About Parsec Automation Corp.
Parsec is the developer of TrakSYS, a real-time manufacturing operations management software platform deployed at thousands of factories in over 100 countries. TrakSYS aggregates data from multiple sources to deliver real-time, actionable intelligence that helps manufacturers to reduce production costs, decrease lead time, and improve profitability.
To learn more about Parsec and TrakSYS, please visit www.parsec-corp.com.
Contact
PREMIER System Integrators
Andy Ask
615-355-7200
www.premier-system.com

Contact