Airbus Will be Joining SMi's 4th Annual Airborne ISR Conference in London in 2 Weeks
SMi Reports: Airbus will be sponsoring and speaking at this year's Airborne ISR conference, taking place on the 24th and 25th October 2018 in London, UK.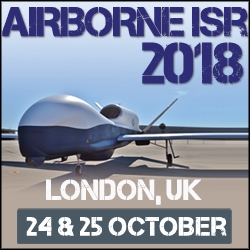 London, United Kingdom, October 12, 2018 --(
PR.com
)-- The 4th Annual Airborne ISR event will be taking place in London on on the 24th and 25th October 2018. The event will bring together a global audience of senior ISTAR operators, capability developers and solution providers, to discuss the latest developments in capabilities, system integration, operational case studies and cutting-edge technology.
With highly focused, expert-led presentations exploring an array of new technologies, airframes and doctrine, Airborne ISR 2018 attendees will benefit from a diverse international line up of senior military and MoD speakers.
Attendees will also have the opportunity to hear from high-ranking expert military speakers from the Royal Air Force, who remain at the forefront of delivering airborne intelligence for UK operations. It is with great pleasure to announce that the Airborne ISR agenda includes four key speakers who will give insightful presentations and will participate in panel discussions encouraging the exchange of ideas and debates, thoroughly covering the intelligence chain.
SMi is delighted to announce Airbus will be sponsoring the two-day conference and also contributing by speaking on day one, Mr David Kingdom-Jones, Head of Air Connectivity, Secure Communications, Airbus will be covering a presentation on Secure Networked Airborne Communications: The Now and Future Combat Cloud and looking into:
- From technology to information superiority
- Air Connectivity boosting ISR
- Network Orchestration of Massive intelligence
- Seamless communications & disruptive technologies
So far the below companies are joining us at the conference who are at the forefront of ISR operations.
Airbus
BAE Systems
DEA Aviation Ltd
Dstl
Eclipse
EU Naval Force
Fraunhofer FKIE
German Air Force
German Naval Air Command
Hellenic Air Force
Hensoldt Sensors GmbH
IHS Jane's
Intelsat General
Joint Forces Command
Leonardo
Ministry of Defence, The Netherlands
Ministry of Defence, UK
NATO
RADLEY Consulting
RAF Waddington
Rafael Advanced Defence Systems
Royal Air Force
Royal Netherlands Air Force
RSAF
Saab
Spacemetric
Transport Canada
UAE GHQ
USAF
Xi Systems Consultancy Ltd
XTAR
With only two weeks to go, if you're interested you can also get involved:
For sponsorship enquiries, contact Sadia Malick, Director on +44 (0) 207 827 6748 or email smalick@smi-online.co.uk
For delegate enquiries or to book by phone, contact James Hitchen on +44 (0) 207 827 6138 or email jhitchen@smi-online.co.uk
To view the full list of expert speakers and their respective presentations, visit the event website where you can download the latest brochure and get a detailed conference programme: www.airborne-isr.net/pr5
Interested in sponsoring, exhibiting or speaking at this event?
Sadia Malick, Director on: +44 (0) 207 827 6130 or email smalick@smi-online.co.uk
For media enquiries, contact Simi Sapal on +44 (0) 20 7827 6000 or ssapal@smi-online.co.uk
Airborne ISR
24th – 25th October 2018
Copthorne Tara Hotel, Kensington, London, UK
www.airborne-isr.net/pr5
Contact e-mail: ssapal@smi-online.co.uk
Contact tel: +44 (0) 207 827 6000
About SMi Group: Established since 1993, the SMi Group is a global event-production company that specializes in Business-to-Business Conferences, Workshops, Masterclasses and online Communities. We create and deliver events in the Defence, Security, Energy, Utilities, Finance and Pharmaceutical industries. We pride ourselves on having access to the world's most forward-thinking opinion leaders and visionaries, allowing us to bring our communities together to Learn, Engage, Share and Network. More information can be found at http://www.smi-online.co.uk
Contact
SMi Group
Simi Sapal
+44 (0) 207 827 6000
www.airborne-isr.net/pr5

Contact