Acquire's Corporate Getaway
Acquire goes on a quick getaway to the Dominican Republic for an award ceremony and some relaxation.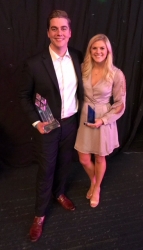 Raleigh, NC, October 22, 2018 --(
PR.com
)-- In celebration of a successful year of business, some of the Acquire team jet set to Punta Cana in the Dominican Republic. During their three-day retreat they attended an award ceremony and enjoyed fine dining as well as relaxation time on the breathtaking beaches of the Coconut Coast. Interests were sparked once the word was out about the end-of-year getaway so the Acquire operations directors were contacted in an effort to learn more about their prosperous year, the award ceremony, and why the directors at Acquire believe in rewarding their top employees with an all inclusive vacation.
Their entire administrative team, as well as their most recently promoted directors, Ben Mertz and Zach Grossbard, accompanied the National and Senior Directors of Acquire. Acquire was not only joined by their local office team, but also some of their clientele representatives and business partners from across the country.
"I can honestly say that the accolades we were awarded in the Dominican are not only a reflection of our ability to develop strong personnel, but also the cohesiveness of Acquire as a whole. The company culture we have is unmatched. It's a true team effort, which is why we take pride in being able to provide top performing employees with the opportunity to go on an all expenses paid getaway."
- National Director of Operations at Acquire, Zack Schuch
Upon arriving at the five-star, Punta Cana resort, the sales and marketing group from Raleigh, NC made their way to a ceremony co-hosted by Acquire's clientele. It was there that Acquire's Management Team was recognized as "Best in The Industry" for the 2018 business year, receiving top awards in both Administrative Practices and Operations Management. This award was voted on and presented by leaders and other personnel in the promotional marketing industry.
"We're incredibly humbled to receive these in-industry awards. 2018 was a monumental year of growth for our company as well as its staff. While we are thrilled to receive this acknowledgment, we are even more excited about what we know is on the horizon in 2019."
- Sr. Director of Operations at Acquire, Grant Gulledge
The extent to which Acquire's management values their staff is indescribable. It was witnessed firsthand during this interview. Discussed, at length, was the priority that is placed on valuing their fellow staff. It is clear that Acquire's Management Team shows their appreciation in many ways as do their clientele. Both senior level managers, Grant Gulledge and Zack Schuch, spoke on how exciting it will be to witness what ways Acquire will be able to show more appreciation in the upcoming year and what all lies ahead for the company. To learn more about the Acquire culture as well as their philanthropic efforts, visit their website at www.acquireraleigh.com.
Contact
Acquire
Julie Banks
(919) 817-1418
acquirerdu.com

Contact