Denali Advanced Integration Awarded Global Partner of the Year by SOTI
Denali Delivers Results Through Expertise in Managed Mobility.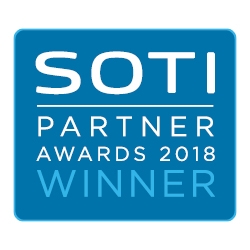 Dublin, Ireland, October 24, 2018 --(
PR.com
)--
Denali Advanced Integration
, a global leader in delivering enterprise IT, has been recognized by
SOTI Inc.
, the world's most trusted provider of mobile and IoT device management solutions, as their Global Partner of the Year at the SOTI Partner Awards in Dublin, Ireland.
"The growing number of mobile devices that enterprise organizations have to manage is astonishing. SOTI's proven mobility solutions and our industry-leading managed mobile services are helping our clients turn the challenges of this growth into a strategic advantage," says Bill Barry, Executive Vice President of Sales at Denali. "We're honored to be named SOTI's Global Partner of the Year and we look forward to continue delivering exceptional results for clients as they navigate this new era of IoT and mobility."
In addition to being a global IT solutions provider, Denali also provides award-winning
Managed Mobile Services
to help large organizations procure, deploy and manage their end-point assets.
"SOTI is pleased to award Denali as our 'Global Partner of the Year,' due to their explosive growth and increased footprint within the industry. Their commitment to the cloud and to SOTI is unparalleled and their ability to drive net new business is impressive. We look forward to continued success in the years ahead, and it is our privilege to award them this top distinction within our global network," said Rob Auld, Vice President, Global Sales at SOTI.
SOTI is committed to delivering solutions that connect the mobile and Internet of Things (IoT) ecosystem for businesses globally, providing them the ability to enable and manage the broadest range of mobile and connected IoT endpoints, users, applications, content, and more. Through the robust capabilities and value of the SOTI ONE Platform, the company's partners are strategic enablers of business transformation, differentiated customer experiences, seamless workflows, and innovative products and services across industries.
About Denali Advanced Integration
Denali delivers Enterprise IT solutions and services, powered by strategic experts and best of breed technologies to help guide our clients through the most complex IT challenges. For more than 25 years, Denali has been one of the most trusted and prominent technology providers in North America, providing a comprehensive set of technology solutions to enable our customers to grow, maintain and expand their business globally. Denali's managed mobility practice leverages SOTI solutions to help clients effectively and securely manage the growing number of mobile devices in the enterprise. Learn more at www.Denaliai.com.
About SOTI Inc.
SOTI is the world's most trusted provider of mobile and IoT device management solutions, with more than 17,000 enterprise customers and millions of devices managed worldwide. SOTI's innovative portfolio of solutions and services provide the tools organizations need to truly mobilize their operations and optimize their mobility investments. SOTI extends secure mobility management to provide a total, flexible solution for comprehensive management and security of all mobile devices and connected peripherals deployed in an organization. For more information, visit www.soti.net.
Contact
Denali Advanced Integration
Ahmad Daher
425-943-5578
www.denaliai.com

Contact