"Christmas Time Once Again"
"Christmastime Once Again," is a fresh, new Christmas duet from independent songwriter, Kiki Stack, featuring the talent of R&B vocalists, Tony Lindsay, and Lisa Leuschner.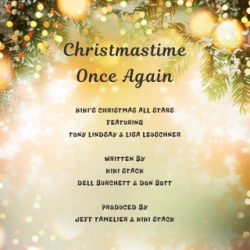 Oakland, CA, October 31, 2018 --(
PR.com
)-- Introducing "Christmas Time Once Again," a new Christmas holiday song.
Bay Area singer/songwriter and driving force behind the band, Dream Posse, Kiki Stack was 21 years old when she became a student of the highly regarded vocal coach, Judy Davis.
At the time, Kiki was working on a project at one of the country's hottest recording studios, Saul Zaentz's Fantasy Records. Judy offered up a suggestion: "Write a Christmas song, darling! If it's a good one, they'll play it every year and you'll get paid!"
Fast forward a few decades, and while working up a song idea for a certain artist, a melody came to Kiki, quite clearly and complete. "It was Christmas time and I was super busy - torn in a ton of different directions," Kiki explains. "But it wasn't until two years later, and well into a calendar year, that I wrote out the lyrics. As it turns out, it's not easy to evoke the holiday spirit out of the holiday season, but as I thought back to my busy life and the pressure of holiday expectations, the words just began to emerge."
The way Kiki heard the song was "R&B meets Disney" you might say, so she reached out to an old friend, Jeff Tamelier, for an opinion. Jeff, a talented guitar player/producer lists among his credits Tower of Power, Starship, Eddie Money, and other great, well-known artists. Kiki asked Jeff if she should do a simple recording of the song in hope it would get picked up or, with his help, try to produce it herself. Jeff, who now works at The Track Shack in Sacramento, California, jumped at the chance and assembled a marvelous young studio band.
As the song evolved naturally into a male/female duet, Tony Lindsay, a buttery smooth vocalist who sang with Santana for some 24 years, and Lisa Leuschner, the talented young singer who belts out Michael Jackson covers in the tribute band Foreverland and a Season Three American Idol Top Ten alum, seemed a lovely match.
The addition of a Henry Mancini-inspired string arrangement from Bay Area favorite Dick Bright added even richer texture.
Kiki says, "Christmas Time Once Again, has an infectious melody, a modern but timeless groove, and a universal point of view relevant to all of our lives - all the elements to become a Christmas classic."
Credits:
"Christmas Time Once Again" written by Kiki Stack
Additional writing credits - Dell Burchett and Don Bott
Vocals - Tony Lindsay and Lisa Leuschner
Arrangement by Jeff Tamelier
Produced by Jeff Tamelier and Kiki Stack
"Christmastime Once Again" is due out this November.
Contact
Dream Posse
Kiki Stack
925-818-7880
dreamposse.com

Contact