New Hit Single, "Eyes"
"Eyes" - A Song That Relates to Many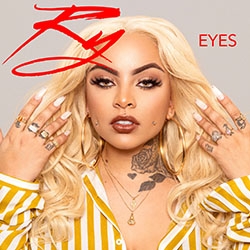 Los Angeles, CA, November 03, 2018 --(
PR.com
)-- New hit single "Eyes" is a song about a woman who is in a scorn relationship. Fed up with her cheating significant other, the singer confronts and puts him on blast as she tells him to: "Look me in my eyes when you break my heart"; "It's the last time you come around."
Many people who have heard the song say that it hits right at home. Many people have been through bad relationships. The hook of the song speaks a thousand words.
The writers and producers of "Eyes" are:
Producer(s):
Off The Gr!d (Richard Vission & Loren Moore)
Additional production by Jason Robinson
Executive Producer(s): Anthony West (A-Dubb) dubb Records
Vocal Producer(s): Alma Goodman
Engineer(s): Luis Moreno
Songwriter(s):
Richard Vission
Riley Biederer
William "Will Jay" Behlendorf Loren Moore
Jason Michael Robinson
Ry, the singer of "Eyes," is an American singer whose music is in the style of Urban Pop culture. Her voice has a smooth tone with a wide vocal range. Ry was born in Chicago, IL and then moved to Long Beach, CA in 2001, in which she joined a long line of musicians displaying a natural singing ability at a very young age. Ry is now working heavily to release her new EP which is set to debut in the early Spring of 2019.
For more information, booking requests, promo requests, or to arrange an interview, contact:
Ry Management (rydopemusic@gmail.com)
www.rydope.com
Contact
1st Page PR
Lauren Marano
310-737-8992
www.1stpagepr.com

Contact