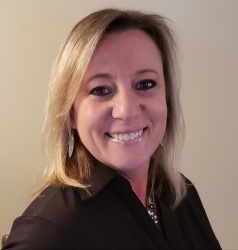 Toms River, NJ, November 07, 2018 --(
PR.com
)-- Counsellors Title Agency, Inc., www.counsellorstitle.net, is pleased to announce that Debra Balak has joined the agency's sales force of licensed title producers. Debra Balak comes to Counsellors Title with a broad and distinguished knowledge of the title insurance industry, representing over two decades of professional title experience.
Brings Infusion of Entrepreneurial Passion to Counsellors Title's statewide network that includes branches in Morris, Monmouth, and Union Counties.
Debra brings an extraordinary wealth of knowledge and experience within the title insurance and settlement services industry, including 10 years of experience as an owner-operator of a full-service title & settlement agency; 5 years as a manager for a midsize title agency with multiple branches throughout the state; and numerous years' experience in search, settlements and file coordination as a processor.
Debra's expertise also includes managing and coordinating employees working on multiple files with lenders, attorneys and real estate agents on a daily basis to coordinate timely examination of files, title commitments and closings.
Counsellors Title is truly privileged to have Debra Balak join Counsellors Title Agency with her 20-plus years of title insurance and settlement experience. Her knowledge and her reputation within the industry are invaluable assets that will contribute to Counsellors Title's success as an agency in the years to come. They look forward to her becoming part of Counsellors' success as it extends its business throughout the state.
Counsellors Title Agency currently serves all 21 counties in New Jersey through its four county locations: Ocean, Morris, Monmouth and Union.
About Counsellors Title
Counsellors Title Agency was founded in 1996 by Ralph Aponte. His hard work and collegial enthusiasm grew the title/escrow agency into one of New Jersey's premier property title agencies, writing thousands of policies for home owners, businesses and institutions since inception. He is a lifelong New Jersey resident and businessman. With over 30 years' experience specializing in title insurance and title research, Ralph has built his repertoire of business tools to include management, commercial and business development. Counsellors Title Agency [CTA] maintains an outstanding customer retention record of over 95 percent. Today, CTA's impeccable track record over the last 21 years is one on which hundreds of attorneys, loan officers and Realtors have come to rely. Counsellors Title Agency, Inc. has consistently provided swift and knowledgeable title insurance settlement and search expertise for thousands of New Jersey's attorneys, loan officers, Realtors, borrowers and purchasers. CTA's detail-oriented team of professionals streamlines the complexities of a real estate transaction to make each one stress and glitch-free.
Counsellors Title Agency is a full service agency specializing in delivering reliable, professional title insurance and settlement services to the New Jersey real estate industry and those who serve it. For more information, please contact Ralph Aponte, 732.914.1400 or go to the company website for a free quote or more information.