Award Winning Myst Ecigs is Now Steamist Vape Supply
Myst E-Cigs, winner of the 2017 & 2018 Fort Worthy awards for Best Vapor Shop and recipient of "Best of 2018" from FW Weekly, is taking a new name.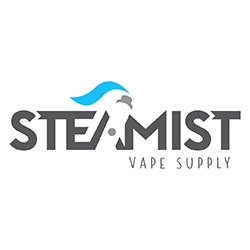 Fort Worth, TX, November 08, 2018 --(
PR.com
)-- Myst E-Cigs, winner of the 2017 & 2018 Fort Worthy awards for Best Vapor Shop and recipient of "Best of 2018" from FW Weekly, is taking a new name. As a locally-owned small business the change comes on the heels of learning a valuable lesson for small business owners: sometimes larger businesses will do things to try and put smaller businesses out of business. In a recent turn of events, a trademark issue forced the award-winning shop to begin a search for a new name.
Myst Co-Founder Michael Rasor said, "Selecting a new name and designing a new website has been a great opportunity for us. We will offer the same great service, low prices, and pleasant experience we always have. There will be a few new surprises as well. We want our current and future customers to know we are a shop for everyone. We enjoy showing newcomers the ropes and catering to the needs of our loyal customers."
The electronic cigarette business has skyrocketed over the last few years. Co-Founders Michael Rasor and Jason Tamplin started the business in 2013 with trade shows when the industry was just getting started and opened the shop in 2014. They have stayed abreast of the turbulent FDA regulations and have managed to remain compliant through all updates and changes.
Over the last several years, thousands of products have come on the market and thousands of shops have opened across the nation. With rapid growth there is an increased chance of overlap of names and ideas. Myst discovered the hard way that small businesses are sometimes a target when this happens, and larger companies have more resources for trademark, copyright, and URL policing. As a result, the shop will have a new name and the co-founders will move forward with the intent of protecting their assets and intellectual property better this time around.
Jason Tamplin said, "Change often brings opportunity and I see this as a chance for us to set ourselves up even better for the future and continued expansion. Our business has grown steadily since we opened our doors in 2014. We didn't win awards last year because of our name. We won because of who we are and how we choose to treat our customers. We don't expect their loyalty to change, and we look forward to offering even more perks and saving for current and new customers."
The shop's rebrand as Steamist is rolling out now and a party to officially welcome the new name will happen over the holiday season.
Contact
Steamist
Jason Tamplin
817-916-8855
vapesteamist.com

Contact
Multimedia
This is the original word document for this press release.