Dr. Donna L. Irvin Showcased on the Reuters Billboard in Times Square in New York City by P.O.W.E.R. (Professional Organization of Women of Excellence Recognized)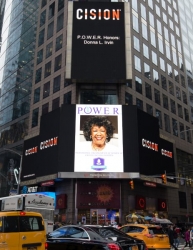 Chicago, IL, November 10, 2018 --(
PR.com
)-- Dr. Donna L. Irvin of Chicago, Illinois has been showcased on the famous Reuters Billboard in Times Square in New York City by P.O.W.E.R. (Professional Organization of Women of Excellence Recognized) for her outstanding achievements and high level of success for over 7 years in the field of Human Resources.
About Dr. Donna L. Irvin
Dr. Donna L. Irvin is the Chief Operating Officer at MyHrFactor, Incorporated. She is the behavioral algorithm designer for the human resource website. This company generates an electronic job board that specializes in matching human resources to employer electronic job postings. Myhrfactor.com uses a custom algorithm based on the company's desired human traits and matches those traits with questions asked of potential candidates to derive a mathematical score or factor.
Donna earned her Ed.D. in Organizational Leadership, with a specialty in Business from Argosy University. She is a member of the Sigma Beta Delta Business Honor Society.
Dr. Irvin published a study of "The Impact of Baby Boomer Military Veteran Leaders on Non-Military Generation Y Employees." In her spare time she enjoys designing jewelry and glass blowing.
For further information, contact
www.myhrfactor.com
/ (312) 254-5003.
About P.O.W.E.R. (Professional Organization of Women of Excellence Recognized)
P.O.W.E.R is a website as well as a digital and print magazine featuring professional and famous women. Our mission is to provide a powerful network of empowering women who will mentor and inspire each other to be the best they can be. Through our valuable services, our members can collaborate with like-minded professionals, gain recognition and obtain knowledge from those who have already achieved success.
Contact
P.O.W.E.R. (Professional Organization of Women of Excellence Recognized)
S. K. Koop
516-365-3222
www.powerwoe.com
Ellen Gold

Contact