Kaizen Development Partners Announces the Link at Uptown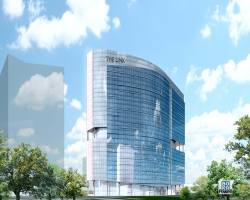 Dallas, TX, November 16, 2018 --(
PR.com
)-- Kaizen Development Partners (Kaizen) unveiled plans today for its latest office development project. Located on one of Uptown's most desirable remaining development sites at the intersection of Olive and Akard Streets, The Link at Uptown will be a 22-story, 300,000 square foot, Class AA office building.
Kaizen quietly purchased the 0.70-acre property in October from local restauranteur and entrepreneur, Mike Karns. Karns was represented in the transaction by Thirty-Four Commercial. "We were tasked with finding the right buyer/developer who would strengthen the neighborhood," said Sarah Hinkley, Founder of Thirty-Four Commercial. "We chose Kaizen due to their ability to execute and develop a marquee addition to the Dallas skyline on a site that is critical for the success of Uptown."
"Situated along a path that links nearly 80% of all inbound commuters to Uptown and Downtown, The Link at Uptown will offer tenants truly extraordinary signage opportunities with unparalleled visibility, along with first-class amenities and services," said Derrick Evers, Partner of Kaizen.
Featuring architecture by BOKA Powell, The Link at Uptown is expected to include two restaurants, a pop-up lunch concept, outdoor terrace amenities, a fitness center with spa-like locker rooms, a conferencing center, 3-per-1,000 parking, and golf simulators.
"This is among one of the most exceptional remaining urban development sites in Texas and the tenants we're trying to attract will expect an equally exceptional building," said Nick Summerville, Partner of Kaizen. "With that comes both a responsibility and challenge to create a special addition to the tapestry of unique buildings dotting our skyline."
Uptown is one of the top performing office submarkets in North Texas, with continued demand for amenity-rich, Class AA office space. Nearly all the new supply of office buildings delivered in Uptown within the past five years has been absorbed, leaving very few suitable options for tenants in search of large blocks of contiguous space.
"With Amazon HQ2 behind us, Dallas is ripe for growth and additional relocations. Uptown is Dallas' premier market with few remaining developable sites," said Hinkley.
Kaizen will relocate its office to The Link at Uptown and hopes to entice many others from its rapidly expanding, 900,000 square foot tenant prospect list to join them. Demolition of existing buildings on the site is planned for next summer, with vertical construction immediately following. The project's completion is targeted for Fall 2021.
About Kaizen Development Partners
Kaizen Development Partners (Kaizen) is a commercial real estate developer specializing in office and healthcare developments. Kaizen brings unencumbered creativity, marketplace knowledge and strategic vision to the built environment. Over the last decade, Kaizen's founders have developed over 2,000,000 square feet of institutional quality projects valued in excess of $1 billion. Kaizen is driven by efficiency and agility with an acute focus on delivering extraordinary value and service through innovative thought leadership, effective market positioning, conservative risk management, and hands-on project management. For further information, visit www.kaizendp.com.
About Thirty-Four Commercial
Founded in 2017 by Sarah Hinkley, Thirty-Four Commercial, Inc. is a Dallas based commercial real estate brokerage firm. Thirty-Four Commercial focuses on Class A office leasing. Combining their relationships in the local market with their expertise in office leasing, Thirty-Four Commercial provides expanded opportunities for their business partners and clients. From marketing a building, finding the ideal corporate location to representing their clients in all facets of a lease negotiation, they are engaged in each step of the process. Delivering focused resilient efficiency, Thirty-Four's services put the client first. For more information about Thirty-Four Commercial Inc, please visit www.thirty-four.com.
For questions, regarding this press release please contact
Derrick Evers, CEO
Devers@kaizendp.com
214-414-3810
Contact
Kaizen Development Partners
Derrick Evers
214-414-3810
kaizendp.com

Contact