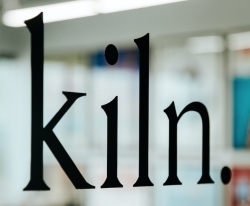 Salt Lake City, UT, November 17, 2018 --(
PR.com
)-- Kiln, a coworking community for the future of startups and tech, is debuting tonight at their first permanent location in downtown Salt Lake City at The Gateway.
With over 100 CEOs, top VCs, and key business and political figures in attendance, Kiln is making a big entrance in the Silicon Slopes ecosystem with their launch party tonight.
"Kiln is a community designed to inspire, connect, and accelerate growth," said Arian Lewis, Kiln founder and CEO. "We saw opportunity in Utah and knew this will become the epicenter of where the tech community will gather."
Lewis led the creation of a coworking business for London-based Barclays (BARC.L) called Rise that currently operates sites in London, Tel Aviv, New York, Mumbai, Cape Town and other major markets. Partnered with Lewis, is Andrew Redpath (COO) who brings deep experience in open innovation, operations and partnerships to create and execute Kiln's ambitions in Utah and possible future expansions.
"With tenants like Cicero, Kiln and Recursion, our goal is to make The Gateway a center of innovation and growth, a place that's driving the future of Utah business and retail," said Jenny Cushing, VP of Leasing at Vestar, the owner and investor behind The Gateway's $100 million revitalization. "Kiln brings something very unique to The Gateway, and we're delighted to be their Salt Lake City home base."
Kiln's offering includes private offices for teams, resident desks for individuals and drop-in club memberships for founders on the go. Members will enjoy amenities that include, meeting rooms and collaboration spaces, phone booths, healthy refreshments, reception services, a theatre seating over 150, an onsite café and a recording studio, just to name a few. All of this happening in a space curated by the help of top designer Leigh Radford (Creative Director) and high profile stylists based out of London.
"Kiln is leading the future of how startups and established corporates collide," said Gavin Dickson of Bitwealth, an investor in Kiln.
Currently, Kiln has more than 90 companies with memberships at both their Lehi Beta Center and Salt Lake City site. With the goal of over 1000 memberships between the two locations, Kiln is now poised to become the largest coworking collective in Utah with a focus on seed to series-B tech.
"We look forward to seeing Kiln's influence take hold in Salt Lake City," said Lara Fritts, Director of Economic Development for Salt Lake City.
"This is only the beginning of great things to come," Lewis said.
About
Kiln is a coworking community meticulously designed to help individuals and teams elevate their craft. By combining years of industry experience and best practices from all over the world, Kiln creates the optimal environment to help companies grow.
Press Call
Kiln is accepting press presence on the event's red carpet as well as in the party itself. Please call/email Anne Olsen (801-232-8705, anne.olsen@kilnspace.com) to secure your position inside.