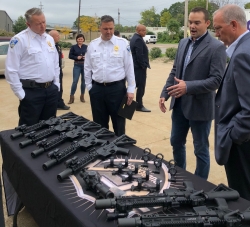 Fairlawn, OH, November 19, 2018 --(
PR.com
)-- Rubber City Armory (RCA), a Kenmore firearms manufacturer, has added more advanced weaponry to the Akron Police Department (APD). The company has donated 10 tactical rifles, manufactured in the company's gunsmith division, to replace armaments that have been in service for over 30 years.
"The rifles donated by RCA have been custom built to exacting specification that we provided the company," said Detective Brian Boss, firearms trainer for APD. "Our tactical personnel place themselves in harm's way daily to protect Akron families; this collaboration with RCA will enhance their safety with weapons designed to meet the needs of this elite team within the department."
"It's a big day for our SWAT team," said Capt. Michael Yohe, the commander that oversees the unit. "We are grateful for the community-minded spirit of the McMillen family. We run to danger. We protect each other. We protect citizens. This equipment will help us do that better."
"We are proud to call Akron home," said Shade McMillen, President of Rubber City Armory. "As a company, we believe in giving back to the communities where we live and work, and want to keep them safe. We recognize the vital role the APD SWAT Unit plays in protecting our local business and community. We're honored to be able to provide these new, handcrafted rifles and look forward to the tremendous protection they will provide the city of Akron."
About Rubber City Armory
Rubber City Armory is the firearms manufacturing business of H&M Metals. Founded in 1946, the company pioneered advancements in ferritic nitrocarburizing with the development of the H&M Blacknitride+™ process. Unique to steel heat treating, the company's process improves the operational capabilities of ferrous metal components, solving wear, lubricity and corrosion resistance problems. RCA uses the H&M Blacknitride+™ process to treat all component parts.